Bank of Korea on Track for Rate Hike as Virus Hit Downplayed
Bank of Korea Governor Lee Ju-yeol said the central bank will discuss raising its key interest rate from its next meeting in August after playing down the likelihood that the latest virus surge will dent the economy's recovery.
While the bank left rates unchanged at 0.5% at its policy meeting on Thursday, a call for a quarter percentage point hike from one member helped send Korea bond futures plunging and strengthened the won as investors boosted their hawkish bets for the BOK to move early.
"The need to deal with the issue of financial imbalances through the normalization of monetary policy has become greater than before," Lee said at a press briefing following the decision. A potential hike in August would still depend on Covid-19 developments, he added.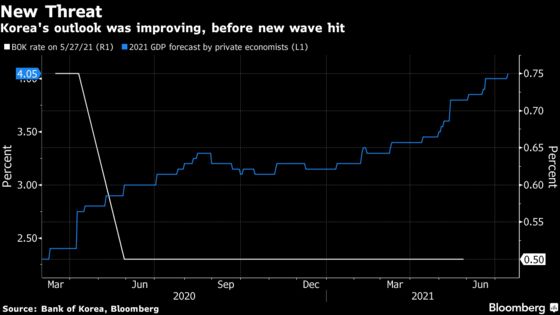 The comments showed that a surge in Covid-19 cases hasn't pushed the BOK off track from normalizing policy this year. That's because Lee sees the economy's rapid recovery largely withstanding the latest round of restrictions as the government tries to rein in rising infection numbers and prepares an extra budget.
Governor Lee added that while there was no timetable for raising rates, there was no need to delay a move if the economy's recovery remains steady.
Within hours after Lee's briefing ended, economists at Citigroup Inc. and Barclays Bank Plc brought forward their calls for a rate hike to August from later this year. In a Bloomberg survey of economists before the BOK meeting, the consensus was for the liftoff to begin in the fourth quarter.
"The BOK is buying into more reasons to lift rates than not," said Roh Hyun-woo, a strategist at Hanwha Asset Management.
With Koh Seungbeom having called for a hike, the next board member likely to join him is Cho Yoon-Je, who has made comments viewed as hawkish in the past, Roh said. That would pave the way for Lee and his senior deputy governor to hold a casting vote and determine the outcome in the August meeting, he added.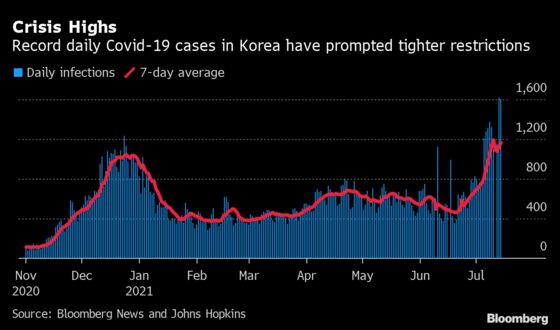 Korea is going through its worst outbreak of the pandemic, with about half the population placed under a semi-lockdown this month. The government reported another 1,600 cases Thursday, close to Wednesday's pandemic high.
Despite the likely hit to consumption from tighter restrictions on activity, the central bank said the economy can grow 4% this year, essentially offering a green light for Lee to proceed with his plan to start normalizing policy this year to curb financial risks.
Swap markets are pricing in at least one 25 basis point increase in the next three months. The yield on Korea's three-year government bonds jumped 11 basis points to 1.50% as of market close in Seoul. The won gained 0.6% to 1,141.40 against the dollar.
A hike would make the BOK one of the first central banks in the developed world to end its run of record-low rates, a move that would have more far-reaching consequences across the economy than the bond-buying taper underway in some countries. New Zealand, which this week announced an end to quantitative easing, is also seen as likely to raise rates earlier than most.
What Bloomberg Economics Says..

"Despite Governor Lee's comments on deliberations starting next month, we expect the timing of its first move will depend on how quickly the latest Covid-19 surge can be contained and vaccinations can get back on course, allowing curbs to be relaxed."

-- Justin Jimenez, Asia Economist

To read the full report, click here
Before the latest wave, Korea's exports were fueling a rebound in domestic sectors, with rising employment and consumers growing optimistic. That prompted the central bank to raise its 2021 growth forecast by a full percentage point in May to 4%.
Against this backdrop, the BOK turned its focus to financial stability, reinforcing the message that gains in property prices have been excessive and risk-taking among individual investors has outrun economic fundamentals.
Lee said targeted government aid, not BOK support, was needed for those sectors of the economy still suffering in the pandemic.