Bank of Korea's Direction Is Unclear Until Moon Sheds Light on Board
(Bloomberg) -- With South Korea's central bank heading for its biggest board shakeup in decades this year, President Moon Jae-in has a chance to make a raft of personnel appointments that could influence monetary policy at a time when the central bank is striving to balance competing risks.
Four of the Bank of Korea's seven board members have terms that expire on April 20 -- and it's the president who makes the final decision on appointees. A fifth member, Senior Deputy Governor Yoon Myun-shik, finishes his term in August.
While most economists expect the BOK to keep rates unchanged when it meets on Friday, uncertainty surrounding who Moon will pick makes the BOK's policy path in 2020 harder to predict. Some analysts say Moon will want members who favor more stimulus, especially given slow growth and inflation. Others expect the president to push the board in a more hawkish direction to try to put a lid on house prices.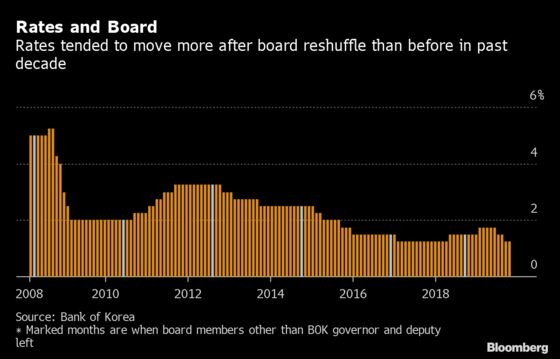 "2020 is the last opportunity for Moon to stamp his image on the monetary policy board before his term in office ends" in 2022, said Rory Green, an economist at TS Lombard. "Moon has shown a bias toward fiscal and monetary stimulus and I think this will be evident in the appointment of a number of dovish members."
Of the board members whose terms end in April, two have clear dovish voting records: Cho Dong-chul and Shin In-seok. Lee Il-houng, a former IMF representative who was recommended to the board by the BOK itself, has dissented from several decisions when the central bank held pat, or cut, and is regarded as hawkish. Another member, former financial regulator Koh Seung-beom, joined Lee in calling for a hike in October 2018.
The law allows BOK board members to serve another term, but current Governor Lee Ju-yeol is the only one to do that since the 1970s. Lee was first appointed in 2014 by then President Park Geun-hye and reappointed by Moon in 2018.
Societe Generale strategist Seong Kiyong says if anyone is likely to keep his job this time, it could be Lee Il-houng, whom he calls an "iconic hawk."
"With a tighter grip on the property market, it is unrealistic for the government to recommend that the doves remain in office," the strategist wrote in a note to clients last week.
BOK Governor Lee has been careful not to speculate publicly about the coming reshuffle, saying at a recent media gathering that it's essentially up to the president.
Spots on the BOK board are coveted by academics and public officials because they bring respect and an annual salary of about $280,000. The jobs are so sought after that finance professionals joke that the line of applicants usually stretches from the president's office to the BOK and back.
Economists are split over BOK policy for 2020, with a slight majority seeing the key interest rate holding at 1.25% and the rest expecting one cut. History shows the bank has tended to take policy action in the months following a change in the board's membership. In 2016, the bank cut borrowing costs to a record low two months after four new members joined, breaking a year-long streak of no change.