Bank of Korea Decision Guide: On Hold as Inflation, Exports Wane
(Bloomberg) -- Weakness in inflation, exports and jobs growth means the Bank of Korea is almost certain to keep interest rates at 1.75 percent at a policy meeting in Seoul on Thursday.
With the BOK having increased rates twice already from a record low -- most recently in November last year -- economists surveyed by Bloomberg are unanimous in expecting no change this meeting. Most forecast borrowing costs will remain on hold for the rest of the year.
Investors will focus on the central bank's policy statement, its assessment of the economy and prices and Governor Lee Ju-yeol's briefing. Export-dependent South Korea looks set to post a third-straight monthly decline in overseas shipments in February and inflation is less than half the BOK's 2 percent target.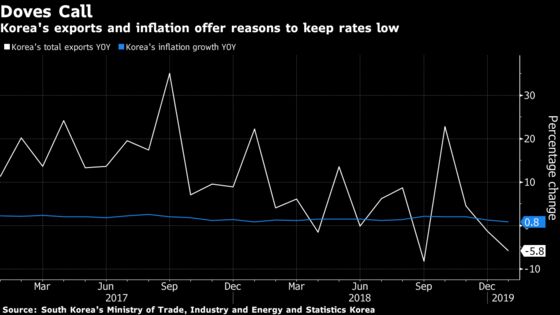 Lee lowered the BOK's 2019 growth and inflation projections at the last meeting in January -- to 2.6 percent and 1.4 percent, respectively -- and conceded that concerns over the economic slowdown had risen. But he also said it's wasn't time to consider easing.
Watch for his take on the latest developments and the impact of uncertainty from U.S.-China trade negotiations. China's slowing economy is hurting South Korea, as is a weakening in the global technology cycle. Any comments on waning jobs growth, which is hurting the government's popularity, will also be of interest.
While Lee's every word is normally parsed for hints of future policy direction, he'll be competing for attention on Thursday with events in Vietnam, where North Korean leader Kim Jong Un is meeting President Donald Trump. The Vietnam summit could help sentiment in South Korea but is unlikely to have any short-term implications for monetary policy.
What our economists says ...
"The market seems to think the Bank of Korea's November rate hike was a one-and-done move. The signals from our traffic lights dashboard agree," says Bloomberg Economics' Justin Jimenez. "The BOK tapped the brakes in November despite a go signal for continued accommodation. With the indicators now tilted even further toward accommodation, the chances of another hike appear remote."

--To read more, see our KOREA INSIGHT.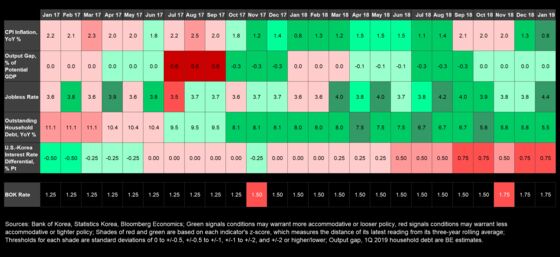 The central bank typically announces its interest-rate decision at about 10 a.m., followed soon after by statements on policy and the economy. Governor Lee's briefing starts from 11:20 a.m.