Bank of Ireland Falls to Four-Month Low After Profit Drop
Bank of Ireland Group Plc shares fell to a four-month low after profits fell, impairment charges rose more than expected and the lender's dividend disappointed investors.
Ireland's biggest lender posted an underlying profit for 2019 of 758 million euros ($821 million), down nearly a fifth from a year ago, the company said in Dublin on Monday. The drop was due in part to an impairment charge of 215 million euros. The lender will pay a dividend of 17.5c per share, lower than analyst expectations.
"The environment in which the group operates has changed materially and is more challenging," Bank of Ireland said.
The company's shares dropped as much as 6.6%, and traded 3.2% down to 3.85 euros in Dublin at 11:56 a.m., valuing the company at 4.1 billion euros. Rival AIB Group Plc dropped 2%, and bank shares across Europe declined, with nations struggling to keep the coronavirus epidemic from spreading further beyond China.
The bank cut its target for return on tangible equity target - a key measure of profitability - from 10% in 2021 to about 8%. That was linked to the lower for longer interest rate environment and concern around Brexit hitting lending to small businesses, Chief Executive Officer Francesca McDonagh said in a phone interview.
"Banking in this environment is a difficult business," Davy analysts Diarmaid Sheridan and Stephen Lyons said in a research note. Davy said it's likely to lower its 2020 forecast earnings by about 5%.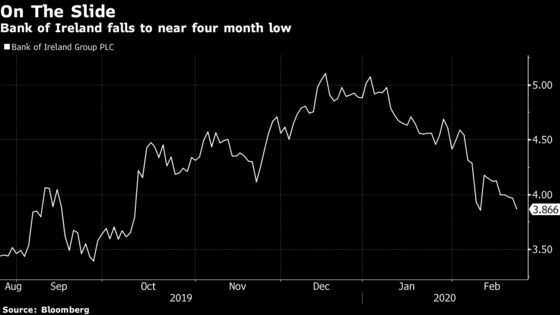 A "more normalized lending environment" and "losses on a small number of large exposures" across a number of different sectors caused the impairment charge, McDonagh said. "There is no indication of any deterioration more broadly in our lending."
Increasing ROTE to 10% remains a "longer term" target, she said.
The bank cut its ratio of bad loans to 4.4%, while operating costs fell 4% to 1.79 billion euros. The lender aims to reduce costs to 1.65 billion euros by 2021.
The bank will seek to off load a portfolio of soured mortgages at some point, Chief Financial Officer Myles O'Grady told reporters in Dublin. The lender will either sell or securitize the loans, he added.
Net interest margin of 2.14%, target NIM of 2.05% for 2020
Net lending growth of 2 billion euros
Fully loaded CET1 ratio 13.8%
Fully loaded CET1 ratio target for 2020 increased to 13.5% from 13% previously
Mortgage market share 24%