Bank of Canada to Lay Groundwork for Rate Hike: Decision Guide
(Bloomberg) -- The Bank of Canada is expected to keep the spotlight on inflation at its policy decision this week, as it nears the start of an aggressive campaign of interest rate hikes.
Policy makers led by Governor Tiff Macklem are unlikely to raise their benchmark overnight rate on Wednesday, but the Ottawa-based central bank has already ended a bond-buying stimulus program and hinted at an accelerated time-line for beginning to increase borrowing costs.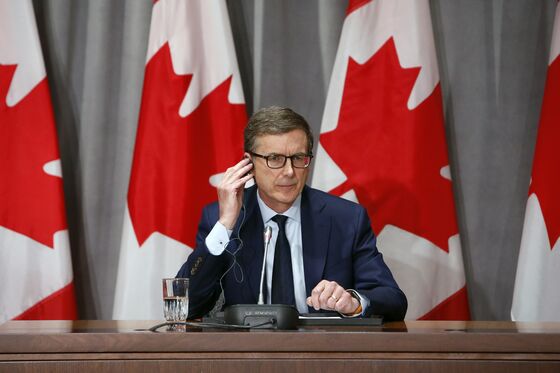 A strong run of economic data since their last policy decision in October has only cemented views that rate hikes are imminent.
Inflation has hit a two-decade high, and no longer appears to be transitory. Employment has surpassed pre-pandemic levels, with the jobless rate at near five-decade lows. Employers are struggling to fill positions, and wage pressures are mounting. Home prices, meanwhile, are skyrocketing.
That economic landscape could give officials scope to hint at an increase as early as next month.
"The main thing I'm watching is how clearly they keep the option of a rate hike on the table for any meeting after this one," Veronica Clark, an economist at Citigroup Global Markets Inc., said by phone. "So as early as January."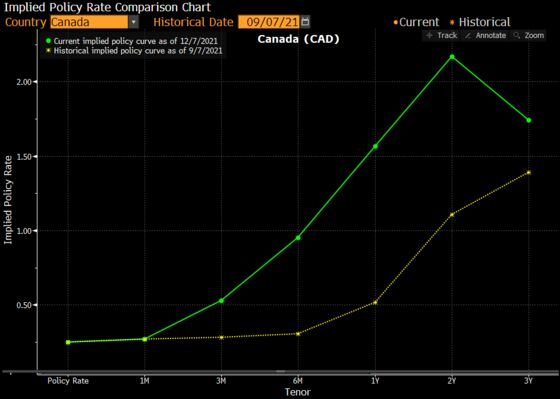 It's become increasingly unnecessary for the central bank to keep ultra accommodative policy intact. That includes maintaining short-term money market rates near zero, and suppressing longer-term borrowing costs by holding more than C$400 billion ($316 billion) in Canadian government bonds. 
Right now, investors are pricing in five increases next year to its 0.25% benchmark overnight rate, with a more than 50% chance of a first hike by January.
Wednesday's decision is a statement-only affair with no new forecasts, making a move this week unlikely. But even then, investors are assigning a one-in-four chance of an increase this week.
A move in January is more probable because that decision includes a new set of quarterly economic projections and a news conference by Macklem. Waiting at least one more month gives the bank time to reassess new uncertainties around the omicron variant of Covid-19. The recent flooding in British Columbia also adds to potential downside risks to the outlook.
"The statement is likely to balance strong economic data with concerns about omicron," Josh Nye, an economist at Royal Bank of Canada, said by email.
What Bloomberg Economics Says...

"Though the central bank will not adjust policy levers, it's likely to ratchet up tougher talk on inflation, adding to the case for a rate hike by next spring."

--Andrew Husby, economist

For full analysis, click here
Still, pressure is mounting for officials to act.  Inflation is running hot -- with 7 monthly readings above central bank's 1% to 3% target range. 
Wednesday's decision is coming on the heels of spectacular jobs report that saw employment rise 153,700 last month, quadruple economist expectations. Around 6% of all available jobs -- more than 1 million -- are now vacant. 
There's also the worry that inflation could become more entrenched the longer it persists above the central bank's 2% target. According to a survey by Nanos Research Group for Bloomberg News, a large majority of Canadians say they lack confidence that inflation will return to more normal levels.
"Economic slack is vanishing fast and, depending on how the Bank of Canada evaluates the Covid risks at this point, the risk is that the bank decides to bring the 'live' meetings forward," Carlos Capistran, chief economist for Canada and Mexico at Bank of America Corp., said by email.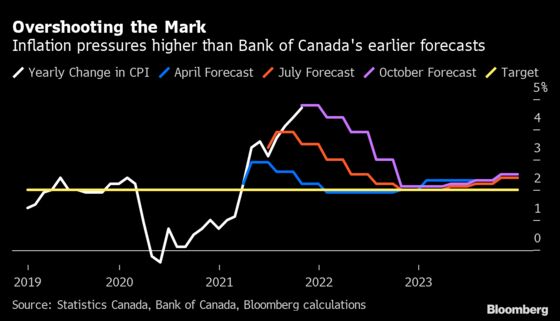 Opening the door to a hike next month will take some creative navigating around the central bank's forward guidance. 
Macklem has pledged not to raise the policy rate until the economic recovery is complete, something officials don't project will happen until the "middle quarters" of 2022. That means no earlier than April. 
The central bank will provide some more insight into its thinking at a speech and press conference on Thursday by Deputy Governor Toni Gravelle.
Other outstanding issues that could be flicked at this week include new guidance on whether the Bank of Canada plans to sell down some of its bond holdings, and an update to its mandate renewal process.
Every five years, the Bank of Canada and federal government renew the bank's monetary policy framework and the current mandate expires this year. Economists aren't expecting a major overhaul of the 2% inflation target.