Bank of America Sees Best Corporate Credit Quality in Decades
(Bloomberg) -- When the next slowdown strikes, investment-grade bonds will see a record-low rate of cuts to junk, according to Bank of America Corp.
"The credit quality of high-grade companies is the best it has been in decades, as companies and industries have been tested and forced to improve," Hans Mikkelsen wrote in a note dated Nov. 14. And that's "one key reason that in the next downturn the rate of downgrades to high yield is likely to be the lowest ever."
Many investors have been voicing concerns about the growing BBB rated universe, which is just above junk. Bonds in that tier now make up roughly half of the high-grade market.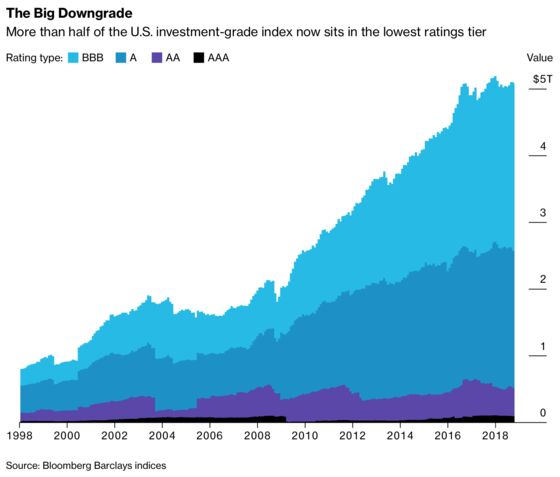 Mikkelsen said a global commodity slowdown that began in 2014, the financial crisis, Dodd-Frank and Sarbanes-Oxley are among the factors that have forced companies to improve.
The call comes amid significant spread widening this week in the high-grade bond market led by sell-offs in General Electric Co. and PG&E Corp debt.
Morgan Stanley said in an October note that between 7 percent and 15 percent of investment-grade bonds were cut to junk in the last three economic downturns, adding that more debt could be downgraded to high yield this time around because the BBB tier is so big.