Bank of America Says High-Grade Corporate Debt Is Set to Rally
(Bloomberg) -- Investment-grade corporate bonds are set to rally through the end of the year, according to Bank of America Corp.
Spreads in the U.S. high-grade bond market should tighten amid favorable supply-and-demand conditions, while the end of uncertainties surrounding the U.S. election may also add a boost, analyst Hans Mikkelsen wrote in a note dated Oct. 31. The call came after strong selling Wednesday.
"We doubt the underlying story has changed," Mikkelsen wrote. "Today in our view marks the beginning of a long year-end rally in credit."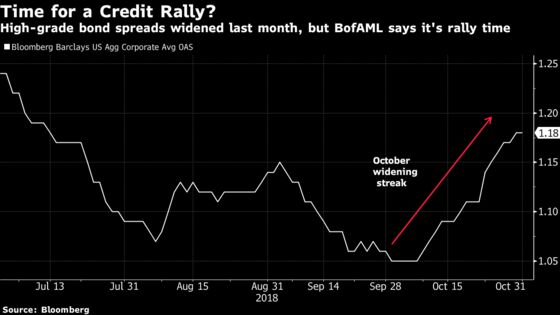 Thirty-year high-grade corporate yields are now above 5 percent for first time since 2016, which will likely spur buying from yield-hungry investors, such as pension funds and insurance companies. Plus, a lack of bank issuance, fewer mergers and acquisitions and less supply should spur more year-end demand, the analyst wrote.
A stronger dollar also continues to attract "significant amounts" of unhedged foreign buying, he said.
However, the bank still expects wider credit spreads in 2019 and 2020.