Bank Indonesia Governor Caps a Year of Trials With the Test of a Trade War
(Bloomberg) -- Follow Bloomberg on LINE messenger for all the business news and analysis you need.
Perry Warjiyo's first year at the helm of Indonesia's central bank has been a baptism of fire. His second isn't likely to be any calmer.
When he was sworn in to office on May 24 last year, the currency was on its way to a two-decade low and foreign investors were dumping the nation's stocks and bonds, triggered by rising U.S. interest rates. The new governor wasted no time in showing his resolve, calling an early policy meeting less than a week later to raise interest rates, the first of five hikes under his watch to stabilize the rupiah.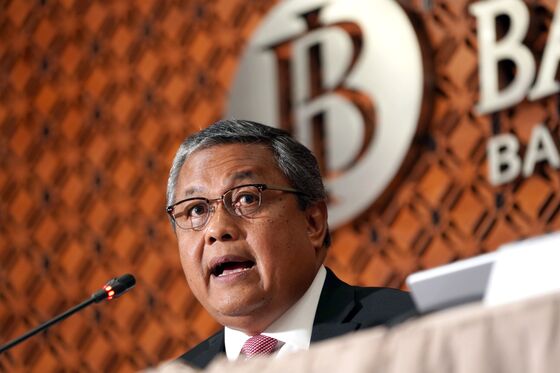 Fast forward to 12 months later and emerging markets from Brazil to Turkey to Indonesia are once again under pressure, but this time from a worsening U.S.-China trade war and waning global growth. In some ways, it's a tougher environment for policy makers to navigate with the trade tensions showing no sign of easing.
Unlike the Federal Reserve, which gave guidance on its policy moves, with a trade war "it will be harder for Bank Indonesia, and everyone for that matter, to predict the endgame," said Euben Paracuelles, an economist at Nomura Holdings Inc. in Singapore. "Bank Indonesia cannot let its guard down and has to stick to placing top priority on its stability objective."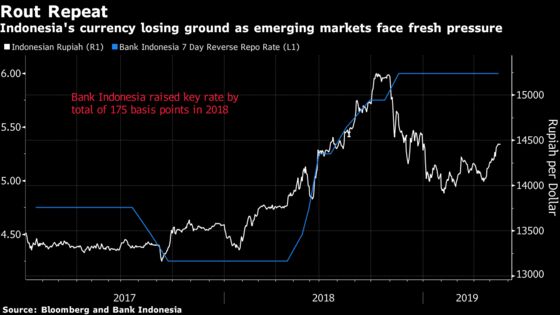 That's one of the reasons why Warjiyo, 60, has been proceeding cautiously in reversing the BI's 175 basis points of rate hikes in 2018. The Philippines, Malaysia, New Zealand and India have all cut rates this year, while Indonesia has only hinted at the possibility. Keeping the benchmark rate steady at 6% helps to maintain the yield advantage of the rupiah, which is down more than 2.6% against the dollar in the past month.
The escalation in the U.S.-China trade war has the potential to spill over to other countries and drag on, Indonesian officials say. It will also weigh on the nation's current account deficit, which ballooned to a four-year high of almost 3% of gross domestic product in 2018. The deficit is an underlying risk to the economy and a key reason why Indonesia was hit so hard in last year's emerging-market rout.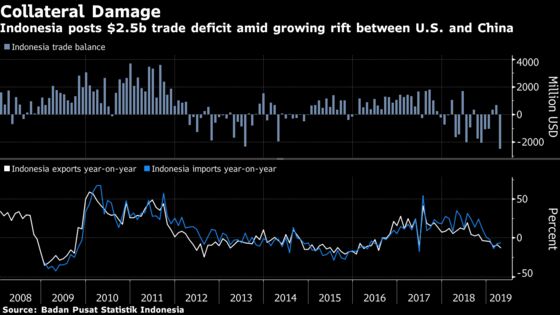 In the immediate term, Warjiyo has to maintain confidence in the currency in an environment of rising political tension. Riots broke out this week in Jakarta, killing at least seven people, as police clashed with supporters of former military general Prabowo Subianto, who is disputing President Joko Widodo's win in last month's election.
A central bank veteran of more than three decades, Warjiyo is no stranger to market turmoil. He was an adviser to the central bank governor when the Asian financial crisis hit in 1997 and decimated the economy. He was at the IMF in Washington during the global financial crisis a decade ago, and appointed a deputy governor at Bank Indonesia in 2013, when the so-called taper tantrum roiled global markets.
With the aid of a more dovish Federal Reserve, the governor is credited for helping to halt foreign outflows and stabilize the currency early this year. Before April's sell-off, the rupiah had gained 7% against the dollar in the five months through March 30, the most in Asia.
"I would rate Warjiyo's response as the best in Asia, given the host of challenges faced by the emerging markets over the last year," said Charu Chanana, an economist at Continuum Economics in Singapore. "He made the transition appear seamless and jumped right on the bandwagon to avoid the rupiah crashing like in the Asian financial crisis."
Warjiyo has improved communication with financial market participants and provided more structure to the way policy decisions are announced. He also successfully hosted the annual meeting of the International Monetary Fund and World Bank in Bali in October, representing emerging market voices in calling for greater coordination of global fiscal, trade and monetary policies.
"BI proved that they were able to maintain stability as we navigated through the market pressure last year, and should be able to do so again this year," said Dian Ayu Yustina, an economist at PT Bank Danamon in Jakarta. "The key is close coordination with the government, which I think so far has been good."