Bank Indonesia Cuts Benchmark Rate to Record Low
(Bloomberg) -- Indonesia's central bank cut its policy rate for the first time in four months Thursday, urging banks to lend more to help drive an economic recovery.
Bank Indonesia cut its seven-day reverse repurchase rate by 25 basis points to 3.75%, the lowest since the benchmark was introduced in 2016, as predicted by 11 of 26 economists surveyed by Bloomberg. One had forecast a 50 basis point cut, while the rest expected the bank to hold rates steady.
"I can assure you that the economic recovery will continue," Governor Perry Warjiyo said in announcing the decision. "We encourage banks and the business community to build optimism so the economic recovery can continue, and at a quick pace."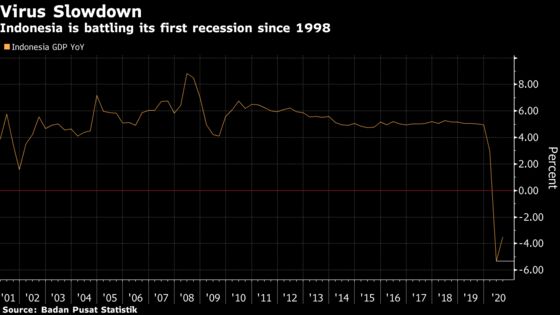 The rupiah fell 0.6% to 14,155 against the U.S. dollar as of market close. Indonesian stocks were up 0.66%, posting their fifth straight day of gains.
The rate cut comes after Southeast Asia's biggest economy contracted more than expected last quarter, falling into its first recession since the Asian financial crisis more than two decades ago. Policy makers hope the economy can eke out some growth in the fourth quarter, even though recent vital indicators -- including consumer confidence, retail sales, imports and manufacturing -- suggest that will be difficult.
Warjiyo's comments announcing the decision "actually point toward a fairly sanguine picture on the growth outlook, but the action to cut rates once again -- to another record low -- after a three-month hiatus, perhaps point toward the weight given to downside risks," said Wellian Wiranto, an economist at Oversea-Chinese Banking Corp. in Singapore. "With low inflation and relative exchange-rate stability, BI has opted to use the space while it has it."
The rate cut is unlikely to be the start of another easing cycle, he said, adding that BI may cut by another 25 basis points in coming months and then maintain the rate at 3.5%.
Bank Indonesia Rate Cut to Extend 'Goldilocks Moment' for Credit
Warjiyo pledged to keep an accommodative policy stance, and not only by cutting rates, as it seeks ways to revive credit that shrank 0.47% in October from a year ago. While the central bank has cut rates by 225 basis points since July 2019, average lending rates at banks have only eased 72 basis points over the same period to 9.38% last month.
"The problem now is low credit demand," said David Sumual, chief economist at PT Bank Central Asia. "Fiscal stimulus will be more effective compared to monetary one in lifting the economy and determining inflation pressures."
Other key points from the decision briefing:
Central bank extended a measure to keep minimum credit card payments at 5% of the amount outstanding, from 10% usually, through next year
Bank Indonesia expects inflation to be lower than its 2%-4% target this year before returning to that range in 2021
The current-account deficit is set to remain below 1.5% of GDP in 2020, with the third quarter likely to see a surplus