Banco Santander to Pay Banker Andrea Orcel €68 Million in Compensation Ruling
(Bloomberg) -- Banco Santander SA was told by a Spanish court it must compensate Andrea Orcel 68 million euros ($77 million) for withdrawing an offer to become its chief executive officer, after a case that's pitted two of Europe's best-known bankers against each other. 
According to the ruling, Santander's offer to Orcel, who is now the CEO of UniCredit SpA, was a valid contract and as such the bank broke it when it decided not to go ahead with the appointment in Jan. 2019. Santander said it plans to appeal the decision and is confident it will succeed.
The case, which saw Orcel face off against Santander Chairman Ana Botin in an unprecedented dispute over pay, hands an important first victory to the Italian. He's already riding high after investors just this week sent UniCredit stock soaring on his much-anticipated strategy revamp. For Botin, the potentially-expensive defeat leaves her facing further questions about her management of the botched appointment and why she pulled back so close to him starting.
Orcel, 58, had sought 76 million euros from Spain's No. 1 lender for breach of contract, claiming he lost millions of dollars in deferred compensation from his former employer UBS Group AG and years of prospective salary at Santander. Until replacing Jean Pierre Mustier as CEO of UniCredit earlier this year, Orcel spent the interim period without any major role in banking.
Spain's No. 1 lender reversed the decision to hire him over conflict on the issue of his deferred UBS compensation. Santander had expected the Swiss bank to pay at least 50% of the deferred pay he was in line to receive. Santander said it agreed with Orcel that he would make his "best efforts" to reduce the cost to the Spanish bank of his deferred compensation from UBS.
"We disagree strongly with the ruling," Santander said in a statement on Friday. "The Board of Santander is confident we will be successful on appeal as we were in the two criminal complaints already considered by the court in relation to this matter."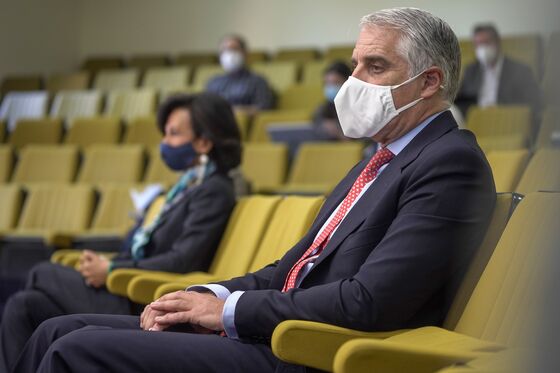 The Swiss lender did agree to pay him an amount of 13.7 million euros but Orcel refused to have that factored in to cutting the cost of his appointment, Santander said in a statement in July 2019.
Botin claimed that the contract with Orcel was never fulfilled, so the appointment never took effect. The bank has also accused the Italian executive of recording private conversations.
Santander Chairman Ana Botin and UBS chairman Axel Weber were among the executives who gave testimony in the case. 
This week, Orcel unveiled a strategy revamp at UniCredit that stands to return at least 16 billion euros to investors over the next four years. Shares soared as much as 12%. 
Botin stunned the financial world in September 2018 by announcing the hiring of Orcel. At the time, the investment-banking star Orcel had appeared an unlikely choice to lead a bank mostly focused on consumer lending. 
Yet, the Italian executive, a veteran of Bank of America Corp. and Merrill Lynch & Co. who joined UBS in 2012, had been a long-standing collaborator with Santander, advising Botin's late father Emilio on deals.
Since Ana Botin succeeded her father Emilio, the lender has favored organic growth, taming its ambitions while it addressed regulatory demands to bolster capital.
Jose Antonio Alvarez, the veteran CEO whom Orcel was to have replaced, remains in his job -- leaving questions about Santander's longer-term management direction.