Balkans Extend Eurobond Dominance in East Europe With Sale Spree
(Bloomberg) -- International bond issuance from the Balkans is dwarfing sales from bigger countries in Eastern Europe.
North Macedonia is the latest addition to a widening stream of sovereign issuance from the Balkan region, offering seven-year euro bonds on Wednesday, according to a person familiar with the deal who asked not to be named as they are not authorized to speak publicly. Earlier deals from Slovenia, Serbia and Croatia have pushed the region's international debt sales this year to more than half of the full-year average since 2010.
Meanwhile, more developed countries further north, such as Poland, Hungary and the Czech Republic, are turning away from Eurobonds as they have deep domestic markets to tap into.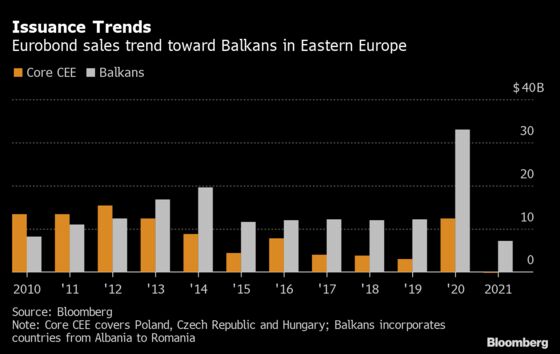 The growing discrepancy is an extension of an almost decade-long trend. Foreign issuance from the Balkans has topped $10 billion every year since 2011, while sales from Poland, Hungary and the Czech Republic have been falling, barring a spike last year to help fund Covid-19 relief efforts.
One reason for the shift is a turn toward debt self-sufficiency in Hungary and Poland, where borrowing in foreign currencies -- both by the state and households -- has left scars on the economy. With economic output more than double the Balkans, domestic saving rates are higher and more mature central banking has allowed officials to turn to asset-purchase programs to help fund budgets.
North Macedonia is offering a benchmark-size bond due March 2028 at around 230 basis points above midswaps, according to the person. Slovenia has issued 2.5 billion euros ($3 billion) of debt in two transactions this year, Croatia priced 2 billion euros, and Serbia 1 billion euros.
"Issuance on international markets is preferred by Balkan countries because their less-developed local capital markets do not allow for raising such big amounts of capital," said Anton Hauser, a money manager at Erste Asset Management in Vienna. For investors, the "higher-yielding debt issued by Balkan countries is a kind of substitute for bonds issued by central European countries, which nowadays offer much lower yields," he said.