Bakkt's Rally Stalls After Tripling on Crypto Deals With Mastercard and Fiserv
Bakkt Holdings Inc. shares slumped 22% Tuesday, halting a blistering two-day rally that saw the stock more than triple in value. 
Shares of the the digital assets platform jumped on Monday after Mastercard Inc. and Fiserv Inc. both announced that they had partnered with Bakkt as part of new credit offerings involving crypto currencies. Bakkt closed at $23.78 in New York. 
The Georgia-based company has added nearly $7 billion to its market capitalization in a little over a week since it went public via a special-purpose acquisition company merger. The Intercontinental Exchange majority owned platform was founded in 2018, originally focusing on developing Bitcoin futures contracts and custodial services, before expanding into the travel and leisure space.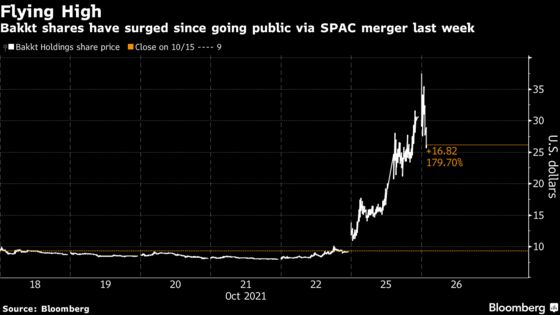 Other crypto-linked stocks have also surged in recent days as Bitcoin extended its rally to a fresh record high last week. Shares of Eqonex Ltd. have jumped more than 50% over the last two days after announcing that it had listed the Polkadot token on its platform. 
Meanwhile, Coinbase Global Inc. -- which is expected to report third-quarter earnings early next month -- has seen its stock price rally nearly 40% over the last month. In a recent note to clients, Piper Sandler analyst Richard Repetto called Bakkt's deal with Mastercard "another example pointing to the greater mainstream adoption of cryptocurrencies central to our positive thesis on Coinbase."