Bailey Says Market Rate Rise Reflects Optimism in U.K.
(Bloomberg) -- Bank of England Governor Andrew Bailey said an increase in interest rates in financial markets reflects optimism that the U.K. economy will bounce back shortly.
The remarks sidestep the concern that policy makers in continental Europe and parts of Asia have expressed about rising bond yields as a threat to a recovery. It suggests the BOE's Monetary Policy Committee will maintain its current pace of stimulus when officials announce their next decision on Thursday.
"We have seen some increase in interest rates over the last month or so, as have other countries," Bailey said Monday in an interview on British Broadcasting Corp. "Today" program on Radio 4. "My assessment so far is that is consistent with the change in the economic outlook."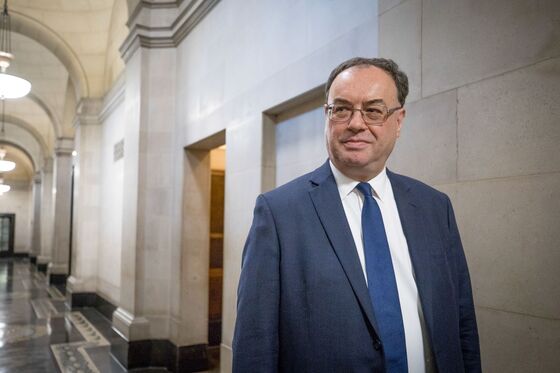 Yields on the U.K. government's benchmark 10-year gilt have risen to 0.82% from as little as 0.17% at the start of the year. The market was little changed this morning after Bailey's remarks.
His comments contrast with the European Central Bank's determination to keep a lid on yields. Last week, that bank said it will bring forward bond purchases to check a steepening of yields that could raise the cost of borrowing across the economy.
Bailey maintained a more neutral stance, noting there's both upside and downside risks to in the U.K. economy. He said Chancellor of the Exchequer Rishi Sunak's decision to extend furlough payments is "helpful" because it will reduce the peak of unemployment.
The economic outlook will be in part dictated by whether and how British households use the savings they have built up during the pandemic, he said. The BOE currently estimates that 5% of the funds accumulated will be spent, but Chief Economist Andy Haldane has publicly said that the amount could be far larger, unleashing a wave of consumption when restrictions lift.
Bailey called the BOE's official projection "fairly cautious" and said it could end up being larger.
"The question then is to what use will all those savings be put, and over what period of time," he said. "It could introduce more consumption, more demand into the economy. But let me say in the other side of course, if we were to get a return of variants of Covid which caused, necessarily, restrictions to be put in place again, that would have the other effect."
The MPC would need to see greater than normal levels of evidence that any increase in inflation over the coming months was sustained before tightening policy, he said. Should more stimulus be needed, he reiterated that the bank has not run out of tools.
Currently, the bank is buying about 4.4 billion pounds of bonds a week, heading toward a target of 150 billion pounds of purchases this year. Officials have said the pace of that buying may slow later in the year. Economists expect no change to be announced this week.