Bad News Feedback Loop Punishes Would-Be Dip Buyers
(Bloomberg) -- A virus headline hits. The market tanks. Nerves fray, conferences are canceled, travel pushed back. Investors hear that, worry about a recession, and sell some more. If any good news lands, like positive economic data, it's assumed to be stale.
Feedback loops like these are punishing anyone who dares to buy the dip. Bad news is bad, good news is no help, and market reactions are starting to feed on themselves. It's the sort of tipping point that can end a bull market.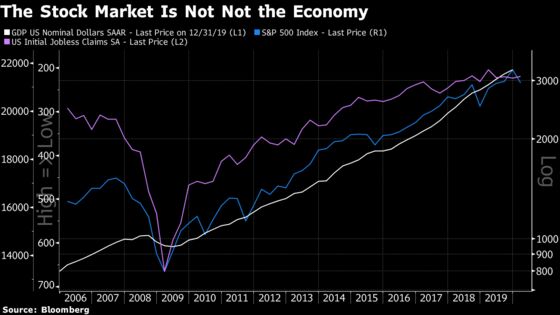 Analysts have barely begun to adjust profit estimates to the outbreak. Maybe it takes a month for the impact to show up in economic data. Close ties between the stock market, sentiment, and the real economy may mean a negative reaction in risk assets spurs more retrenching among consumers, the engine of the economy.

"For the last number of years, you had a situation where everyone knows things are good, and the markets rally on a good print that affirms that," said Dan McMurtrie, founder and portfolio manager at Tyro Partners. "Now we've got a situation where everyone knows prints coming up are going to be ugly -- you're going to see more profit warnings and gaps in supply chains you didn't know about, too."
In the S&P 500, analyst estimates for 2020 earnings growth have yet to fall by even 1% from the start of the year, though first-quarter projections have been slashed by considerably more.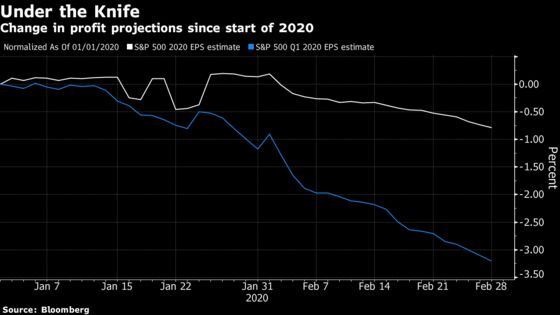 "One of the biggest problems U.S. equity investors are having is that it is impossible to know exactly what the right forecast is for S&P 500 EPS in 2020," said Lori Calvasina, chief U.S. Equity strategist at RBC Capital Markets. "This makes it extremely difficult to understand where valuations are."

McMurtrie worries about the prospect of lost pay among segments of the work force like food preparation and servicing, retail and education, should the public health response to the coronavirus include mass school closures and the psychological effects of people less willing to gather in public.

"The second hours worked get hit, the V-shaped recovery goes out the window," he said. "The big story is Wall Street's failure to acknowledge how many people are dependent on labor for spending, literally day one econ stuff."

Any loss of income will adversely affect the balance sheet of households, leaving them dependent on credit for day-to-day consumption needs. Pulled-forward spending means that going forward, future consumption has to moderate, according to McMurtrie, in a form of self-imposed austerity.

Peter Tchir, head of macro strategy at Academy Securities, says the services sector is what to watch to gauge the pervasiveness of the negative impact on the U.S. economy.

"For me, my real fear is that we got the weak services data two weeks ago, and that's before there should've been a lot of impact from this," he said. ''We've been able to point out 'we're not a manufacturing economy' -- but if this is going to hit services it's going to be more problematic, and that data is going to be much harder to ignore."

While a number of economists have slashed their forecasts for first-quarter activity, the consensus forecast for 2020 U.S. GDP growth of 1.8% is the same as it was coming into the year.