Backpedaling AMD Bears Stung by October's 35% Share Price Plunge
(Bloomberg) -- Short sellers who cut exposure to Advanced Micro Devices Inc. this month are probably anguished after a technology selloff and disappointing earnings forecast sent the stock tumbling.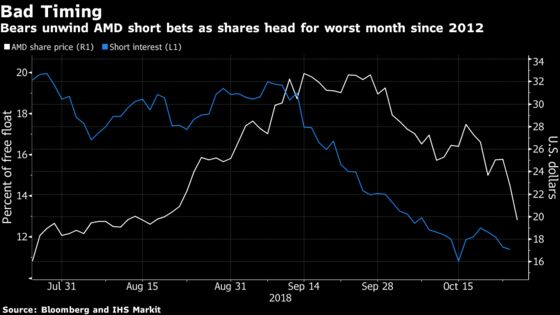 Only 11 percent of the shares available to trade were sold short as of Wednesday, according to data compiled by IHS Markit. That's down from 17 percent at the start of September and near the lowest since early 2017. The pullback in bearish bets has gained pace as the shares plunged more than 35 percent in October, putting them on track to post the biggest monthly decline in six years.
Despite the rout, AMD is still the best-performing stock in the S&P 500 Index this year, advancing more than 90 percent. Optimism that the chipmaker can gain ground on rival Intel Corp. in the market for microprocessors helped push the stock to a 12 year-high last month.