AXA Says Asia Junk Bond Rally Still Has Legs, Likes BB Names
(Bloomberg) -- Further gains are in the offing for Asian dollar junk bonds even after a stellar rally in August, according to AXA Investment Managers Asia Ltd.
That's because the market has reached some stability after a sell-off in the first half of the year and many investors have cash ready to be deployed, Jim Veneau, the asset manager's Hong Kong-based Asia head of fixed income, said in an interview.
Since hitting 18-month lows in mid July, Asian high-yield bonds have staged a strong comeback as China's easing measures rekindled investor bets that default risks from the nation's risky issuers will recede. Still, Veneau believes some credits have yet to rebound to levels before the sell-off earlier this year.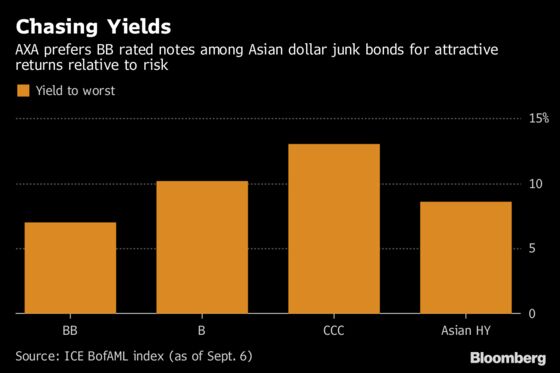 "It's a good time to buy without having to be in defensive names," Veneau said, adding he sees value among BB rated Chinese property and industrial credits that are currently yielding 7 to 9 percent.
Despite the recent recovery in Asian junk bonds, average yields are about 240 basis points higher than the start of the year, according to an ICE BofAML index.
Investors should avoid debentures that aren't widely distributed in the primary market because those typically have low trading liquidity, said Veneau, whose firm managed $886 billion of assets globally as of June 30.