Meme-Stock Ruckus Barely Moves a Market Waiting on Jobs Data
(Bloomberg) -- That clatter you hear in the market is confined to the world of meme stocks. Elsewhere, equities are in a pre-summer doldrums awaiting Friday's May jobs report.
The daily mayhem in AMC Entertainment Holdings Inc. hides how placidly large-cap equity markets have traded, with the S&P 500 Index barely awake.
Consider this: The headline index is in a stretch of tranquility not seen since 2017. For six consecutive days, the benchmark had not traded up or down by more than 0.25% in any session until Thursday when it closed down -0.36% on the day. That was the longest such streak since Dec. 28, 2017, a year in which it also registered two separate soporific spells of 10 and 11 days. Back then, the VIX was pinned below 10, while today it sits at nearly 18.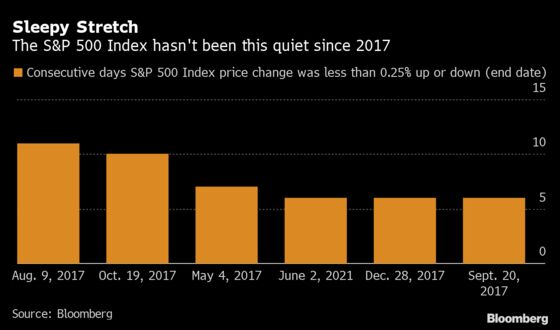 "One way to look at it is that institutional money, big money is sitting and waiting to see what happens with Friday's numbers," said Chris Gaffney, president of world markets at TIAA Bank. "You've got the Fed saying, 'We're going to wait.' You've got everyone waiting to see Friday's numbers. So the patterns we're seeing are holding patterns."
The capricious movements of previously left-for-dead stocks have yet to affect broader indexes, and can be explained as a case of "'been there, done that,'" wrote Kinsale Trading president Tom Essaye in a note.
"The market has already seen this once and as such I don't anticipate any AMC volatility causing January-like volatility," said Essaye. "The focus on AMC is more due to the fact that markets are essentially in a holding pattern until the jobs report. I'm not trying to be dismissive of the AMC volatility, but the only reason GME (GameStop Corp.) mattered was because of systemic concerns about hedge fund solvency and Robinhood solvency, and there's no implication AMC is causing anything close to that type of issue right now."
If anything, the lack of action in the S&P 500 could be contributing to the wild action in the stock hinterlands, said Keith Lerner, the chief market strategist at Truist Advisory Services.
"With the market moving sideways, some of the speculative investors are looking at other areas for fun," said Lerner. "It's a digestion period, there's not much of an edge for the bulls or the bears. There hasn't been much information that has really swayed things."