Avocado Giant's NYSE Debut on Hold as Emerging Markets Swing
(Bloomberg) -- Camposol Holding Plc, the biggest Peruvian supplier of Hass avocados to the U.S., is learning to be patient as emerging-market turmoil delays its plans to raise cash.
The company, which has 2,660 hectares (6,550 acres) of avocado trees in Peru, is in no rush to make its debut on the New York Stock Exchange after a week in which commodities went haywire and developing-nation stocks headed toward a bear market, said Chief Financial Officer Andres Colichon.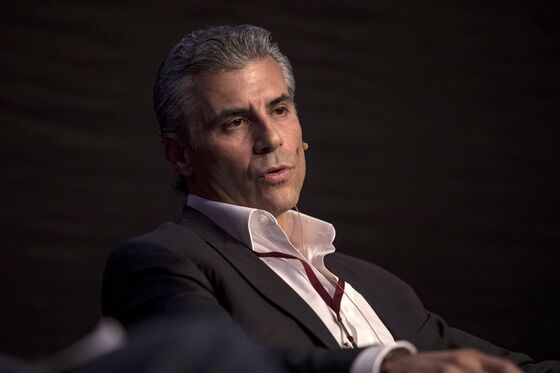 "Each day that goes by the market seems to be more turbulent," Colichon said in an interview in Lima. "We're not in a hurry. It's a once-in-a-lifetime event for a company, so we're going to wait for the right moment."
Camposol plans to raise at least $300 million to $400 million by selling shares in New York and Lima, ending an almost six-year drought for initial public offerings in the Peruvian capital. The company filed its intentions for the IPO with the U.S. last year and said in February it was waiting for market volatility to ease before going ahead. Since then, markets have only became more torrid.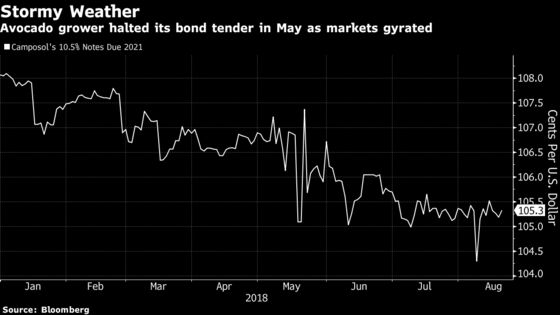 It's not just equity markets that are the problem. In May, Camposol terminated a tender offer for $147 million of senior secured notes due 2021 amid market gyrations. Yet, neither of the delays will force the company to halt expansion plans as revenue from new plantings soars.
"We're not under any pressure to do it, so we'll revisit it in line with our investment plan," Colichon said. "Right now there's no market" for debt.
The company plans to invest about $130 million this year to expand production of avocados and its other key crops -- blueberries, tangerines and shrimp -- using cash from operations. It plans to continue investing at that pace to sustain Ebitda growth of about 20 percent in the coming years, Colichon said.
Camposol's 2021 notes rose 0.07 cent to 105.43 cents per U.S. dollar at 11:11 a.m. in New York, pushing the yield down 0.03 percentage point to 8.34 percent, according to prices compiled by Bloomberg.
The week earlier, emerging-market stocks and currencies sank to their lowest levels in more than a year as the prospect of a global trade war and Turkey's crisis took their toll on frayed investor nerves.
Once markets calm, the stock offering will be a combination of new shares and equity from the owners, the Dyer Coriat family, which agreed to dilute their holdings in order to boost the size of the sale and make it more attractive to investors. The offering will represent no less than 25 percent to 30 percent of the company's equity, Colichon said.
Camposol also plans to revive the tender offer for its 2021 notes when conditions improve, using proceeds from a sale of about $200 million to $250 million of new debt, Colichon said.
The company bought land in Colombia's coffee belt last year for growing avocado and plans to purchase more, Colichon said. It also bought about 1,000 hectares in Uruguay for growing tangerines. In Peru, it owns more than 20,000 hectares of farmland, with 6,590 hectares under cultivation.
Peru is the world's largest exporter of Hass avocados after Mexico, according to Camposol's IPO filing.
The company plans to sell short-term debt instruments in the local market to raise its profile among Peruvian investors and may issue a local bond in the longer term.