Avis Surge Blasts Short Sellers With Billions in Losses, S3 Says
(Bloomberg) -- Investors betting against rental-car company Avis Budget Group Inc. are facing about $4.3 billion in losses after the company's shares more than tripled.
Its shares gained as much as 218% at one point Tuesday amid a flurry of trading activity after the rental car company said it will play a big role in the increased adoption of electric cars in the U.S. When the stock was up roughly 181%, the surge pushed mark-to-market losses for short-sellers on the day to $4.29 billion, according to S3 Partners data.
Shares of the Parsippany, New Jersey-based company trimmed gains to 95% at 12:15 p.m. in New York. The halved gains will likely mean the blow to short sellers will be smaller than the estimated number by the time the dust settles.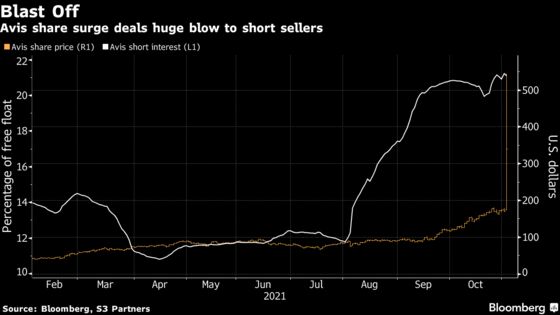 The stock is likely to remain a target for a short squeeze with the potential for new investors betting against the company stepping in, Ihor Dusaniwsky, S3 Partners' managing director of predictive analytics, said by email. "So there may be a game of musical chairs in Avis today, some shorts leaving the game, but other shorts just switching seats with other players."
Bearish bets against the company have jumped in recent months with roughly one-fifth of shares available for trading currently sold short, according to S3 data. That compares to data from IHS Markit which shows the short interest has peeled back to roughly 17% from a mid-September high of 23%.