Michael Avenatti Loses Bid to Have Two Nike Extortion Charges Tossed
(Bloomberg) -- Celebrity lawyer Michael Avenatti lost his fight to dismiss two counts in the criminal case accusing him of trying to extort millions of dollars from Nike Inc. while representing a youth-league basketball coach.
U.S. District Judge Paul Gardephe on Monday rejected Avenatti's argument that the counts, which relate to communications Avenatti allegedly sent Nike demanding payment, should be tossed because they were too vague and prosecutors failed to properly allege "wrongful conduct." Avenatti, who gained a national profile after suing President Donald Trump on behalf of adult-film star Stormy Daniels, is set to go on trial later this month in Manhattan.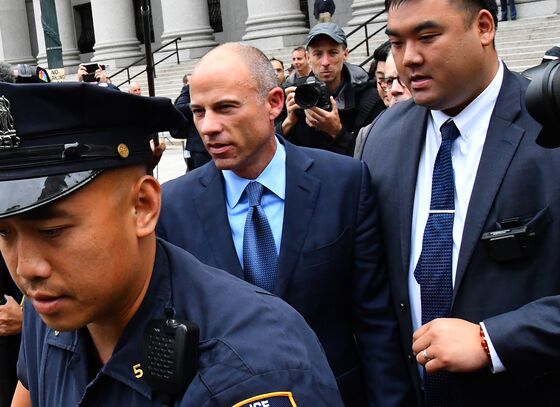 The judge didn't rule on Avenatti's motion to dismiss a third count in the indictment.
Federal prosecutors say Avenatti, 48, tried to extort $25 million from Beaverton, Oregon-based Nike while representing a coach, Gary Franklin, who claimed to have information about improper payments to student athletes by the company. Nike's lawyers in New York wore wires to obtain evidence against Avenatti, who was arrested after a meeting with them.
Avenatti demanded the payment in exchange for canceling a potentially damaging press conference about the company, according to prosecutors.
"The indictment adequately alleges that Avenatti engaged in 'wrongful' conduct, because it pleads facts demonstrating that Avenatti used threats of economic and reputational harm to demand millions of dollars from Nike, for himself, to which he had no plausible claim of right," the judge said.
Avenatti said in a statement he would be cleared when the evidence came forward at trial. "I will be fully exonerated by a jury because I did nothing wrong," the California-based lawyer said.
Gardephe on Monday also denied Avenatti's request to subpoena Franklin for text messages between the coach and various Nike executives, including audio recordings Franklin secretly made. Avenatti argued the evidence would show that he was involved in legitimate settlement talks to get Nike to pay a $1.5 million settlement to the coach. Gardephe said that wasn't the issue.
"Instead, the critical issue at trial will be whether the government has proven beyond a reasonable doubt that Avenatti demanded $15 to $25 million for himself in exchange for not conducting a press conference at which Nike's alleged misconduct would be revealed, and whether he did so without his client's knowledge and consent," Gardephe said.