AutoNation Profit Hits Record on Demand Rebound; Shares Gain
(Bloomberg) -- AutoNation Inc. rode a recovering auto market and its own internal cost-cutting moves to post record profit in the third quarter, beating analyst estimates for both adjusted earnings and revenue.
The nation's largest auto dealer chain said it made $2.38 a share in adjusted profit, beating a consensus forecast of 10 analysts for $1.65 a share -- almost double what it earned a year earlier.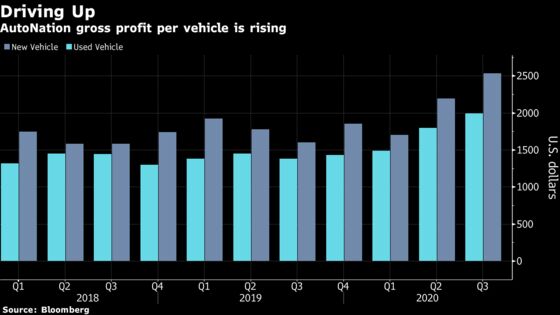 AutoNation shares pared a gain of as much as 10% to trade up 6.5% to $67.10 as of 9:46 a.m. in New York.
Pandemic-weary car buyers returned to showrooms to find a lean selection of vehicles but low financing rates, which enabled AutoNation to boost prices. The company also reduced staff and marketing costs to improve profitability, Chairman and Chief Executive Officer Mike Jackson said in an interview.
"Demand was very strong," Jackson said. "Interest rates are very attractive and will be for some time."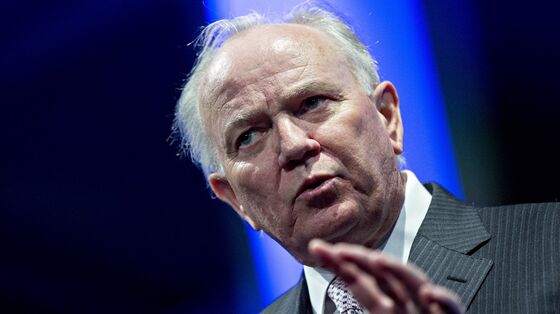 Revenue fell 1% to $5.4 billion, which was above a $5.19 billion consensus estimate.
Even as consumers resumed buying cars, automakers have raced to make up for springtime production shutdowns at the start of the coronavirus outbreak. Nationwide, dealers have 2.7 million vehicles in stock, down from inventories of 3.6 million vehicles a year ago, according to a report from Bank of America Merrill Lynch.
Jackson said his stores were able to get better pricing as a result. "If we had more cars, we could have sold more," he said.
Cost cuts accounted for much of the improvement in margins. Net income leaped to $182.6 million from $99.5 million a year earlier, due in part to a $140 million decline in the cost of goods sold.
Jackson said he is using digital tools to match more car buyers with the vehicle they want online. As a result, he is using fewer people at dealerships and spending less on television advertising. Rental and corporate fleet sales remain a challenge, but he said retail sales are expected to continue to improve.