Austrian Coronavirus Economic Aid Tops $15 Billion, Kurz Says
Austria has already disbursed more than 14 billion euros ($15 billion) in aid to combat the worst recession since the 1930s triggered by the coronavirus shutdown, Chancellor Sebastian Kurz said in a televised speech.
That's about 3.5% of Austria's annual output, and two-fifths of the 38 billion euros the government budgeted in aid last month. More measures to boost the economy will be announced in the coming days, Kurz said.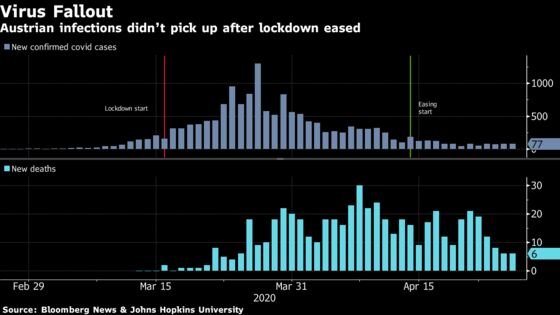 Austria's government will cut taxes for middle and low incomes to give the economy a further boost, invest in "digitization, ecologization and education" and plans to scrap "unnecessary regulations," Kurz said.
"We have to continue to contain the spread of the coronavirus and at the same time restart the economy," he said. "Even as our situation looks good today, we can't rule out a second wave of infections along the way."