Italy, Austria Impose Holiday Lockdowns to Curb Virus Spread
(Bloomberg) -- Italy and Austria are leading Europe's latest round of holiday-season lockdowns as the two neighbors seek to curb the spread of Covid-19 infections.
The Italian cabinet voted late Friday to impose a "stop-and-go" lockdown from Dec. 24 to Jan. 6, with strict restrictions on and around Christmas, New Year's and the Epiphany holiday on Jan. 6, and slightly looser curbs for Dec. 28-30 and Jan. 4, Prime Minister Giuseppe Conte said at a press conference. Bars, restaurants and nonessential stores will close and people's movement will be limited during the periods of stricter measures.
"We need to intervene — and it was not an easy decision, it was a difficult one," said Conte, whose country has reported the most virus-related deaths in Europe since the pandemic began. The government will ensure support for affected businesses, and 645 million euros ($790 million) has been set aside for restaurants, he said.
Austria, which alternated between looser and tougher restrictions over the past six weeks, ordered non-essential stores to close again, while restaurants and hotels will remain shut and schools won't reopen as usual after the Christmas holidays. The measures take effect on Dec. 26 and will lift on Jan. 18.
"The forecast for the first quarter is very, very dark," Austrian Chancellor Sebastian Kurz said in Vienna. "The growth of infections could turn exponential again at any time."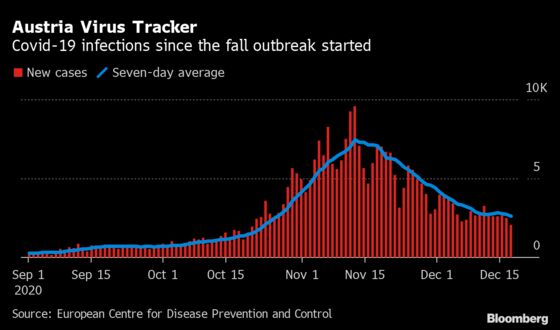 Austria, which has about 9 million residents, will carry out mass testing with rapid antigen kits at the end of the lockdown. The country enacted relatively loose restrictions Nov. 3 and tightened them significantly from Nov. 17, closing schools and non-essential stores through Dec. 6 before returning to the looser model.
Austria's seven-day incidence of cases fell by two-thirds to about 200 per 100,000 as of Friday. The target is to bring that down to 100, Kurz said.
Conte, who has no political party of his own, has sought to mediate between coalition partners who are divided over imposing curbs that are unpopular and risk harming an economy crippled by previous lockdown measures. The government also is split on whether to reopen schools for ninth grade and higher in early January.
Italy registered 17,992 new virus cases on Friday, compared with 18,236 the day before. Another 674 died of causes related to Covid-19, compared with 683 on Thursday.
"We have to make choices to safeguard the most fragile and the elderly, even at the cost of becoming unpopular," Francesco Boccia, minister for regional affairs and a member of the center-left Democratic Party, told Sky Tg24 on Thursday. "Each of us will have to spend Christmas at our own home."
Italy's government has called on residents not to host people from other households during the holidays. A maximum of two visitors will be allowed, not counting children younger than 14, Conte said.