Tusk Says No November Date Unless Brexit Advances: Summit Update
(Bloomberg) -- Sign up to the Brussels Edition, a daily morning briefing on what matters most in the heart of the European Union.
European Union leaders meet for a summit in Salzburg, Austria, with Brexit and migration on the agenda.
Macron Calls Brexiteers Liars (4:48 p.m.)
French President Emmanuel Macron branded Brexiteers who told voters that leaving the EU would be easy "liars," as he issued a stern warning to others that quitting the bloc comes with a cost.
"Brexit is the choice of the British people, a choice pushed by some who predicted easy solutions," he told reporters. "It demonstrates that those who say it's easy to do without Europe, that it will all go well, that it will help make big profits, they are liars."
In comments that help explain Macron's strategy in the Brexit negotiations, he said: "Brexit shows us one thing: it's not that easy to exit European Union, it's not without cost, it's not without consequences.''
Spain Sees Gibraltar Deal in Time For October Summit (4:25 p.m.)
Spanish Prime Minister Pedro Sanchez said he was hopeful an agreement on Gibraltar could be reached with the U.K in mid-October.
"We have some differences on environmental cooperation, judicial and police cooperation, free movement and I would say tobacco and taxes," Sanchez said. "You may say well, everything. No it's not everything -- we are very close to reaching an agreement."
May to offer new proposal for Irish border (4:11 p.m.)
May said she would put forward her own proposal on how to avoid a hard Irish border shortly. She declined to give any details on what it would include, except to say that it wouldn't carve the U.K. into two customs areas.
She declined to comment when asked whether the U.K. would accept a regulatory -- not customs -- border down the Irish Sea. This is a critical question because the Northern Irish Democratic Unionist Party, which May relies on to prop up her government, will be hostile to any deal that treats Northern Ireland differently to mainland Britain.
May says she won't do anything that cuts Northern Ireland off -- her longstanding line, but it hasn't fully reassured the DUP in the past.
May says only U.K. plan is 'serious and credible' (4:04 p.m.)
In her opening remarks May said she had a "frank" chat with Tusk. On the backstop for the Irish border issue: "we will be bringing forward our own proposal shortly." She insisted that the U.K.'s is "the only serious and credible" plan.
She admitted that there is a lot of hard work to be done but that it's in the "EU's interest as well as U.K.'s." When pressed in the first question she repeated her opening remarks, refusing to be drawn on whether chances of a no deal had gone up.
Looking stern, she said she'd always expected these negotiations to be tough. In perhaps her most revealing remarks yet, she said that "at various stages, different tactics are going to be used." Could that mean that behind this hardening and game of brinkmanship, perhaps this is all par for the course?
She grimaced when asked about being disappointed at not getting warm words on her proposal.
Macron says Brexit is harder than British expected (3:52 p.m.)
French President Emmanuel Macron said the difficulties in reaching a deal on Brexit show that leaving the EU isn't as straightforward as British people were led to believe. Talks must advance before leaders meet again next month.
"Things are advancing but it's not as simple as the British were told," Macron said. There is "a lot of nervousness," he added.
Macron said he'd prefer a no-deal Brexit than one that would damage the EU's integrity.
Tusk says November summit conditional on progress (3:31 p.m.)
EU President Donald Tusk said leaders will make an assessment in October on whether there has been enough movement in Brexit talks to justify holding an extra summit in November. Tusk says the so-called Chequers plan put forward by British Prime Minister Theresa May won't work and "maximum progress" is needed before leaders meet again next month.
Tusk said he's more optimistic than he was that the two sides will eventually reach a settlement but the negotiations are a "tough game" and he couldn't rule out a no-deal Brexit.
Rutte says May is trying to offer serious proposals (3:23 p.m.)
Dutch Prime Minister Mark Rutte said he's optimistic of a Brexit agreement this year, but his country has done more to prepare for a no-deal scenario than the U.K. British Prime Minister Theresa May is trying to put serious proposals on the table, but what she's offered so far poses difficulties, he added.
Deadline for Brexit deal is November, Austria says (3:15 p.m.)
Austrian Chancellor Sebastian Kurz says negotiators are aiming to reach a Brexit deal at November's summit. Kurz is responsible for leading EU meetings until the end of the year as Austria holds the bloc's rotating presidency. Romania takes over in January.
Merkel says substantial progress needed on Brexit (3:10 p.m.)
German Chancellor Angela Merkel said the EU and the U.K. need to make "substantial progress" by October if they are to get the Brexit process on track. She said the EU can't compromise on the integrity of the single market and chief negotiator Michel Barnier is working excellently. The atmosphere with her British counterpart Theresa May was good in Salzburg, she added.
"There is still a lot of work to do regarding the question of future trade relations," Merkel said at a briefing after the summit. "We have all agreed today that there can be no compromises with regard to the single market."
Could the November Deadline Slip? Some Think So (1:08 p.m.)
Not everyone in the EU thinks November is the final deadline for a Brexit deal. Some reckon it could go into next year and wouldn't mind too much if it does, according to a government official from an EU27 country, who declined to be named. Veterans of EU crisis summits know that these negotiations always go down to the wire.
The official EU position is that it should be done in good time for parliaments on both sides to ratify it before exit day on March 29, 2019. And May made clear last night that she doesn't want to extend the negotiating period beyond then in order to get a deal.
EU's Hope for Second Vote Goes Down Badly (11:50 a.m.)
Maltese Prime Minister Joseph Muscat's confession that EU leaders want the U.K. to have a second vote and stay in the bloc caused irritation at home.
"It is wishful thinking on behalf on the EU's part and it has been holding up progress on the talks,'' Marcus Fysh, a pro-Brexit Tory lawmaker said in an interview. A second referendum "would be incredibly divisive and create more uncertainty for business -- they just want to get on with it."
"It also creates an incentive for the other side not to think about the future relationship."
Fysh blamed former prime ministers Tony Blair and John Major and former Deputy Prime Minister Nick Clegg alongside other "remainers" for visiting European leaders and "misleading'' them into believing there is support for a second referendum in the U.K.
Pollsters YouGov released research in July showing 42 percent of Britons favor a second referendum, against 40 percent who do not.
EU Still Hoping Brexit Won't Happen (10:03 a.m.)
During her speech to EU leaders on Wednesday, May tried to ram home her point that they need to compromise fast -- because there is no way out of Brexit.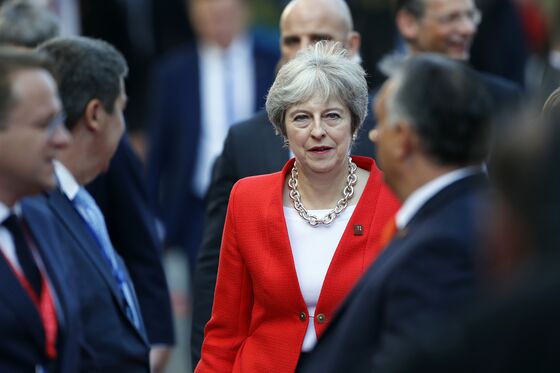 She told them Britain will leave the bloc next March, there won't be an extension to the talks and there will never be a second referendum. That message doesn't seem to have worked.
"There is a unanimous -- almost unanimous -- view around the table that we would like the almost impossible to happen, that the U.K. has another referendum," Malta Prime Minister Joseph Muscat told BBC Radio on Thursday. "I don't know what the result would be."
What Happened to Operation Save May? (9:56 a.m.)
In the run up to the Salzburg summit, there were reports that EU leaders knew they needed to help May get through a politically perilous time in London. The last thing they want is for her to be toppled by pro-Brexit hardliners in her own party before the U.K.'s withdrawal is complete.
May faces a crucial test of her authority on Sept. 30 when the Conservative Party's annual conference begins in Birmingham, England. The four-day gathering of activists and politicians will culminate in a speech by May in which she will need to convince her own side that she's still the best person to lead them -- and the country -- through Brexit.
But British hopes that the EU will mount a so-called operation to save May ahead of the conference -- with warm words of encouragement in Salzburg -- were dashed on Wednesday night. European Council President Donald Tusk led a succession of EU leaders in flatly rejecting her Brexit proposals, to the disappointment of British officials, according to people familiar with the matter.
Merkel, Macron Gloomy After Brexit Dinner (9:45 a.m.)
German Chancellor Angela Merkel heard nothing new in May's presentation at dinner last night, according to a person familiar with the situation. Merkel went into the meeting this morning without speaking to reporters.
French President Emmanuel Macron was also downbeat as he went into the summit. He said the Brexit deal mustn't put the integrity of the single market at risk, and called on the U.K. to come up with a fix for the Irish border. The battle over the Irish border pits the demands of the U.K. that Northern Ireland mustn't be cut off from mainland Britain against the demands of the EU that Northern Ireland mustn't become a leaky border with the EU's single market.
Orban Has A Simple Solution for Migrant Crisis (9:45 a.m.)
European Union leaders are considering a system of financial contributions by member states that don't take in migrants, Italian Prime Minister Giuseppe Conte told reporters. "It's clear that if only some countries take part in this mechanism, we can't call it European," he said.
Hungarian Prime Minister Viktor Orban had a simpler solution when asked how to solve the migration problem. He told reporters they need to stop letting migrants in and send those who are in back home.
"Don't let them in, and those who are in send them home. Simple," he said.
Luxembourg 'Convinced' There Will be Brexit Progress (9:15 a.m.)
Luxembourg Prime Minister Xavier Bettel says there are still obstacles in Brexit talks but he's confident there will be progress. "It's very hard but I'm convinced we'll move forward," he told reporters.
EU President Jean-Claude Juncker said U.K. Prime Minister Theresa May's presentation over dinner was "interesting and polite." Leaders are being friendlier this morning than they were last night.
Still, Lithuanian President Dalia Grybauskaite wasn't so sure: She said "there is no progress," and talks are at a standstill.

Czech P.M. Says He Feels Sorry for the U.K. (9:07 a.m.)
Asked by reporters if he felt sorry for U.K. Prime Minister Theresa May as she battles through Brexit, Czech Prime Minister Andrej Babis said: "I feel sorry for the U.K."
Kurz Says Both Sides Need to Compromise (8:50 a.m.)
Austrian Chancellor Sebastian Kurz told reporters that both sides know they need to compromise for a Brexit deal to be done.
"Aside from the media discussion and aside from hard-line published statements, inside the meeting I have the impression that both sides are aware that one will find a solution only by moving toward each other."
He said the Brexit discussion was more positive inside the room at dinner last night.
Late on Wednesday, leaders struck a more negative tone, saying time was running out and that progress has been scant. U.K. Prime Minister Theresa May also cranked up the pressure, saying she wouldn't allow an extension to the exit day deadline in order to get a deal.
Leaders start arriving at 8:45 a.m.
May is due to talk to Irish Prime Minister Leo Varadkar
Plenary session of the summit begins at 9:30 a.m.
Final press conference at 3 p.m.