Austria's Covid Infections May Peak This Week, Forecasters Say
(Bloomberg) -- Coronavirus infection rates in Austria may peak this week after the government put the country back into lockdown and immunity improved in hotspots, according to a group of healthcare scientists. 
Their forecasts see the seven-day virus incidence rate in a range of 760 to 1,300 over the next week. That measure, which reflects infections per 100,000 inhabitants, stood at 1,100 on Wednesday.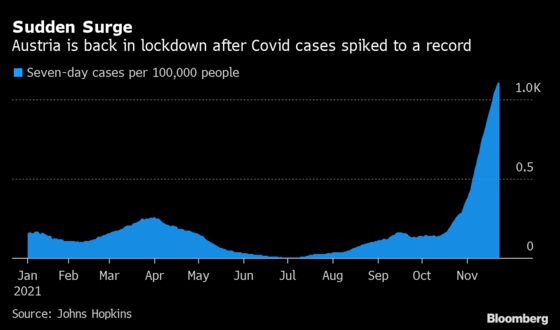 The projections by three research institutes in Vienna, based on analysis of mobility data and waste water, also say that hospital numbers will continue to grow due to patients requiring medical treatment with a lag. Occupation of intensive-care unit beds may surpass the 600 level seen as critical.
The projections suggest a nationwide lockdown that started Monday may help contain the latest wave of the pandemic. The government has vowed to end strict limitations for vaccinated people on Dec. 13 at the latest. Vaccinations will become mandatory from February.