Australian Jobs Show Weakness Even as Unemployment Rate Falls
(Bloomberg) -- Australia's unemployment declined in May as fewer people sought work, signaling a slightly weaker labor market.
The jobless rate fell to 5.4 percent from 5.6 percent in April, the Australian Bureau of Statistics said Thursday. While that was better than the 5.5 percent median forecast of economists, it was a result of a decline in the workforce participation rate. Overall, the economy added 12,000 jobs last month, lower than forecast and all part-time.
See the key numbers from Thursday's jobs report here
"There is still plenty of slack in the labor market," said Kate Hickie at Capital Economics Ltd., noting high underutilization. "As such, even if the pace of job creation picks up again in the coming months, this excess slack and other structural forces are likely to prevent wage growth from increasing much."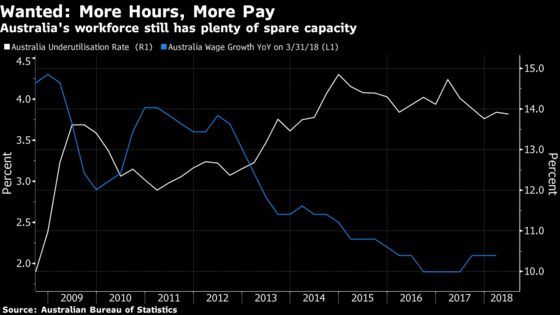 Australian central bank officials say strong forward indicators are likely to herald a renewed upswing in hiring and expect the jobless rate to fall toward 5 percent, a level that traditionally spurs wage growth. That in turn would drive faster inflation and clear the path for the nation's first interest rate increase in eight years.
Still, traders only expect such a scenario to unfold over time, currently pricing in the first tightening in November 2019. A jump in labor force participation last year absorbed blockbuster job gains and kept unemployment around 5.5 percent. In other details:
Today's report showed underemployment climbed 0.1 percentage point to 8.5 percent and the underutilization rate -- the sum of unemployment and underemployment -- holding at 13.9 percent.
Unemployment in New South Wales and Victoria fell 0.1 point to 4.9 percent and 5.1 percent, respectively. A construction boom in the eastern states has been underpinned by record-low interest rates.
Tasmania's jobless rate climbed 0.5 percentage point to 6.6 percent, the country's highest, mainly fueled by a rise in participation.
"Businesses are still keen to cut costs where they can rather than lifting prices," said Craig James, chief economist at Commonwealth Bank of Australia's securities unit. "Interest rates will remain on hold until there is firm evidence that skill shortages are leading to broader-based increases in wages, and therefore higher selling prices."