Australian Open in a Pandemic Offers Lessons for Tokyo Olympics
(Bloomberg) -- The Australian Open's ability to continue with strict quarantine rules and an absence of tennis fans during a pandemic could act as a road map for organizers of this year's delayed Tokyo Olympics.
The tournament in Melbourne is already sharing information with Japanese officials, including frequency and types of testing as well as protocols for handling Covid-19 cases, Tennis Australia Chief Executive Officer Craig Tiley told Bloomberg Television on Tuesday. All 1,200 players and their entourage who came into the country had to complete 14 days in quarantine.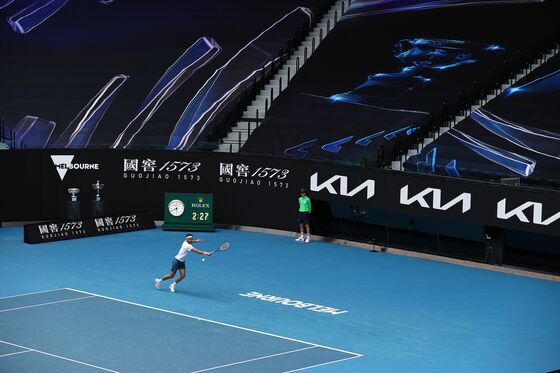 "If you isolate the group and quarantine them, and you can create a modified training environment, then you almost ensure that the athletes coming into your bubble are free of the virus," Tiley said. Spectators had initially been allowed with limited capacity before a snap lockdown forced the tournament to proceed without crowds.
Organizers of the Olympics, which were originally scheduled for 2020, unveiled the first version of their playbook in early February with Covid-19 countermeasures that don't include mandatory vaccinations or quarantines for those arriving in Japan. A more detailed plan is expected in April and they have affirmed plans to kick off the event in July.