Aussie Bond Yields Surge as Jobs Surprise Raise Tightening Bets
(Bloomberg) -- Australia's bond yields pushed higher after the country recorded a surge in employment as the economy reopened, further strengthening bets that the central bank will withdraw monetary stimulus sooner than later. 
Yields on 3-year bonds surged as much as 14 basis points to 1.05%, while the 10-year equivalents climbed seven basis points. Bonds were already under pressure after the Federal Reserve outlined a faster tapering plan and signaled rate hikes on Wednesday. 
"We expect Australian bond yields to move higher over coming months, led by the short end, with the curve continuing to flatten," said Andrew Ticehurst, a rates strategist at Nomura Holdings Inc. in Sydney "The Fed's hawkish pivot creates additional space for the RBA to move in a more-hawkish direction, and we think that stronger local inflation and employment data will surprise the RBA and force it to move that way."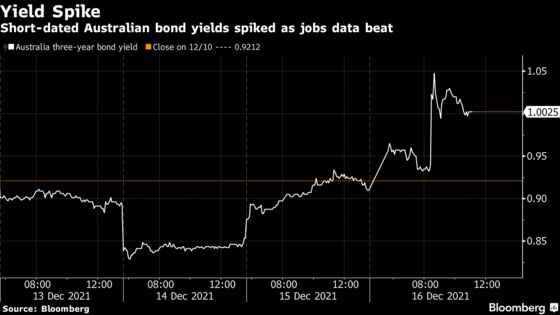 The jobs data comes as Reserve Bank of Australia Governor Philip Lowe highlighted that the central bank was considering options to end its quantitative easing program, which may include ceasing debt purchases as early as February. The pace of economic recovery, concerns over inflation and market turmoil led the RBA to scrap its yield curve control last month.  
Traders boosted bets that the RBA will hike in May next year and now see about a 75% chance the central bank will increase its benchmark interest rate to 0.25% by then from 0.1% now. 
The economy added 366,100 roles in November, smashing economist estimates for a 200,000 increase, data from the Australian Bureau of Statistics showed Thursday. 
Tension between the market and the RBA has led to dramatic swings in Australian bonds since October. The 3-year yield had jumped from 0.2% in September to more than 1.2% late October.  
Lowe recently reiterated interest rates will stay at a record-low 0.1% until underlying inflation is sustainably back within the central bank's 2-3% target band. The RBA has also said it doesn't expect the omicron variant to derail economic recovery.