Australia Sees 'Road Back' as Lockdown Flattens Virus Curve
(Bloomberg) -- Australia's government said lockdown measures have led to a "sustained and consolidated" slowdown in new coronavirus cases, though cautioned there will no easing of restrictions for at least three more weeks.
The growth rate has been less than 1% for nine consecutive days and has averaged less than 0.5% for the past three days, Health Minister Greg Hunt told reporters in Canberra Tuesday.
In a sign of the nation's success in flattening the curve, the government announced that elective surgery will gradually resume from next week -- one of the first steps to reopening locked down sections of the economy.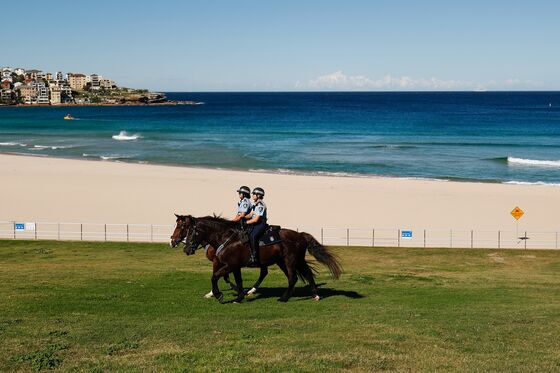 "This is an important decision because it marks another step on the way back," Prime Minister Scott Morrison said after a meeting of the National Cabinet. "There is a road back. There is a road ahead."
Under the current lockdown, Australians are being urged to stay home except for essential shopping, medical appointments, school or work. Gatherings are limited to two people, other than household members. Pubs, restaurants, casinos, gyms and cinemas remain closed, crippling sections of the economy.
Treasury forecasts unemployment will double to about 10% in the June quarter, despite the federal government and central bank releasing around A$320 billion ($202 billion) of stimulus, equivalent to about 16.4% of gross domestic product.
Morrison said that restrictions won't be lifted until sufficient testing and tracing capabilities are in place and the effective transmission rate is consistently under 1, meaning the number of people a single case infects is on average less than one other person.
Australia's Most Populous State Plans Gradual Return to School
The government is pushing ahead with plans to introduce a non-compulsory coronavirus tracing app, which it says will allow for a quicker relaxation of restrictions should at least 40% of Australians use it. Still, the app has met with resistance amid data privacy concerns.
"There are still a few more hurdles for it to clear as we address the many issues associated" with implementing the app, Morrison said, adding the National Cabinet had given "in principle" support for it.