Australia Will Reopen Its Crippled Economy by July in Three-Step Plan
(Bloomberg) -- Australia plans to reopen its crippled economy by July and get 850,000 people back in jobs, as its success in flattening the curve of new coronavirus infections allows it to relax lockdown restrictions.
Announcing a three-phase plan Friday, Prime Minister Scott Morrison said he aims to incrementally reopen cafes, restaurants, gyms and cinemas, allow gatherings of up to 100 people and permit interstate travel.
The timetable puts Australia in the vanguard of developed economies emerging from the crisis, having avoided the scale of sickness and death that's ravaged countries including the U.K., U.S. and Italy. Morrison is seeking to thread the needle between containing the virus, while lifting restrictions that are costing the economy A$4 billion ($2.6 billion) a week.
"Success is not being able to stand up every day and say there's three cases or 12 cases or 18 cases," Morrison told reporters after a meeting of the National Cabinet. "Not when you've got a million people out of work."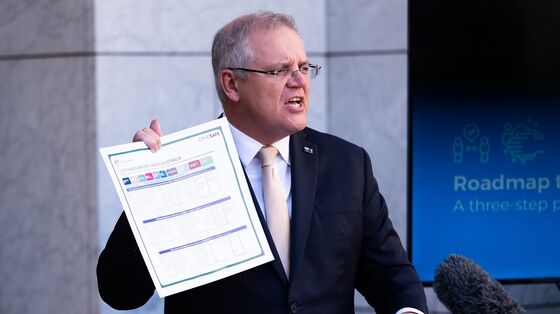 It will be down to Australia's eight state and territory governments to implement the guidelines.
Restrictions imposed six weeks ago have smashed the economy, with the central bank forecasting unemployment will double to 10% this quarter, while gross domestic product will contract 6% this year. Data released Friday shows banks have deferred at least A$200 billion ($130 billion) in loan repayments during the crisis.
Health experts have advised against too rapid a reopening, saying it could pave the way for new clusters of cases.
"Australia has done remarkably well, which is a testament to the measures put in place by authorities and people's adherence to social distancing," Sanjaya Senanayake, an infectious diseases specialist at the Australian National University Medical School, said earlier this week. "The worry is that as we lift the restrictions and there's increased interaction between people there may be an increase in cases, particularly as the nation heads into winter."
Australia has flattened the growth rate of new daily infections from about 20% a month ago to less than 0.5%. There have been 6,896 cases of the virus in Australia, with 97 deaths.
Under Australia's lockdown, its 25.7 million population was urged to stay home except for essential shopping, medical appointments, school or work. Gatherings were limited to two people, other than household members.
The following is a breakdown of the gradual reopening of the economy:
Allow gatherings of 10 people, and five guests in your home. Children back in classrooms. Golf courses and public swimming pools, retailers, small cafes and restaurants can reopen. Local and regional travel will resume. 30 people allowed at an outdoor funeral, and 10 at weddings.
Gatherings of 20 people allowed. Gyms, beauty parlors, cinemas, galleries and amusement parks reopen. Organized community sport will resume. Some interstate travel will be allowed.
Gatherings of 100 people allowed. Most workers back in workplaces. Pubs and clubs will reopen with some restrictions. All interstate travel allowed and authorities will consider opening the border with New Zealand, some Pacific islands and letting in international students.
"It is our goal to move through all of these steps to achieve that Covid-safe economy in July," Morrison said. "In this plan, we walk before we run. We know we need to be careful to preserve our gains, if we wish to reclaim the ground we lost, we cannot be too timid."
Morrison participated in a video conference earlier this week with leaders of other nations that have enjoyed initial success in limiting the virus's spread. Other members of the so-called "First Movers" include New Zealand, Greece, Israel, Singapore, Denmark and the Czech Republic and they will meet again next week.
While some of Australia's less populated states and territories have already eased restrictions, New South Wales and Victoria have been more hesitant amid recent outbreaks in a Sydney aged-care home and a Melbourne meatworks.