Half of Australia Back in Lockdown as Delta Tests Covid-Zero
Half of Australia's population is back in lockdown after South Australia state joined Victoria and New South Wales in ordering residents to stay at home as the delta variant leaks across the country.
South Australia later Tuesday will impose Australia's strictest lockdown since the start of the pandemic after recording two new cases in the community. Residents must stay within 2.5 kilometers (1.5 miles) of their homes and comply with a 6p.m. curfew as part of the draconian measures introduced to halt an outbreak seeded from a returned traveler.
Lockdowns sweeping south-east Australia are hampering economic recovery as everything from nail salons to construction sites fall silent. The economy may contract 0.7% this quarter should Sydney and Melbourne's stay-at-home orders last for eight and three weeks respectively, Westpac Banking Corp. chief economist Bill Evans said in a note.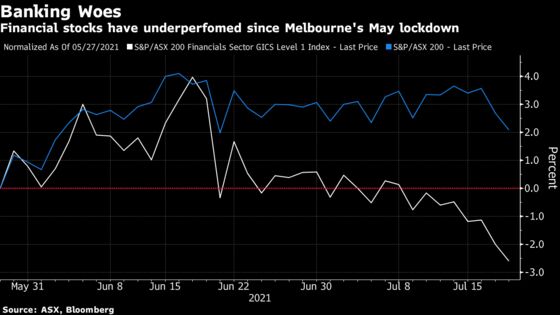 Australia's tardy vaccine rollout -- one of the slowest among the 38 OECD nations -- has made the country particularly vulnerable to the delta variant, which has increasingly leaked out of the quarantine system for overseas arrivals, forcing health authorities to impose snap lockdowns to maintain Australia's 'Covid Zero' strategy. Australia has administered enough doses for 20% of its population, according to the Bloomberg Vaccine Tracker, compared with 53% in the U.S. and 62% in the U.K.
The scenes of empty streets and closed pubs and shops across Australia are in stark contrast to what's happening in the U.K., where large crowds attended the British Grand Prix and images emerged of heaving nightclubs as the country marked 'Freedom Day.' Australia canceled its F1 race later this year as its international borders remain largely closed, and fairly small clusters make even domestic travel difficult as states and territories pull up the drawbridge.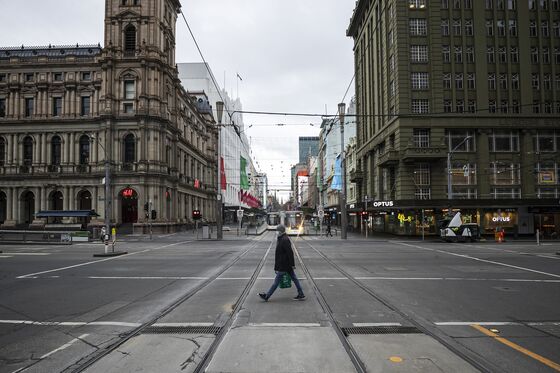 Victoria state on Tuesday extended its lockdown -- its fifth since the pandemic began -- by another week and effectively shut its border to Sydney. The state's capital, Melbourne, is facing its second lockdown in as many months after an outbreak was seeded by workers who delivered furniture from Sydney earlier this month.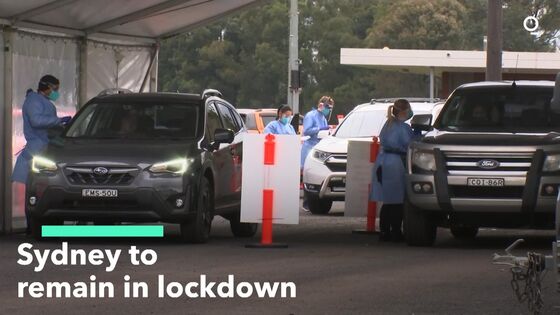 Authorities had hoped to re-open earlier, but there's a risk that Victoria's current outbreak could worsen as four of the 13 cases detected overnight were infectious in the community, state Premier Daniel Andrews said. "There are chains of transmission that are not yet contained," he told reporters.
Meantime, New South Wales state recorded 78 new locally-transmitted coronavirus cases in the 24 hours through 8 p.m. Monday, as its capital city Sydney remains in lockdown for a fourth week to halt the delta spread, state Premier Gladys Berejiklian said Tuesday. While the majority of new cases are located in the city's south west, about one third of new cases weren't isolated for a period before being detected despite being told to stay at home, she said.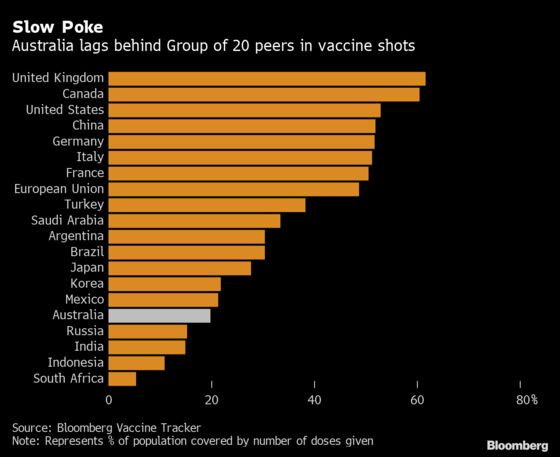 Even if the outbreaks are suppressed, state leaders have warned that restrictions in some form will remain until the population is vaccinated. NSW has indicated 80% of adults will need to be inoculated before curbs can be substantially dialed back.
"There is no question that we will not get out of this pandemic without a very substantial proportion of our population being vaccinated," NSW Health Minister Brad Hazzard said. "So please, go and get vaccinated."