Global Inflation Battleground Heads to Australia as Yields Surge
(Bloomberg) -- Australia became the latest battleground for market bets that central banks will need to tighten quicker than planned after its core inflation surged back to the Reserve Bank's target, driving a sell-off in bonds.
The three-year yield jumped as much as 24 basis points to 1.01% and the April 2024 security the RBA aims to keep at 0.1% soared to double that. Traders are pricing in three interest-rate increases by end-2022 to 0.75%, in a test for RBA chief Philip Lowe who doesn't see conditions for a hike emerging before 2024.
Inflation has gathered pace across the world, driven by soaring energy prices and supply chain disruptions on everything from semiconductors to cars and food. That has prompted central banks from New Zealand to the U.K. to begin raising rates or signaling plans to do so.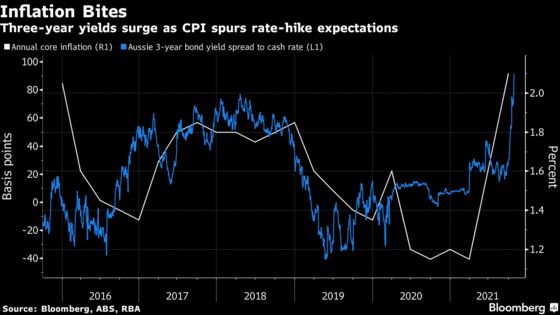 "We are definitely moving into a high inflation world," said Diana Mousina, senior economist at AMP Capital Investors Ltd. "I suppose the question is will this continue in a sustained way? I think it's still too uncertain as Covid is still causing massive distortions to the data."
Wednesday's report showed the annual trimmed mean gauge accelerated to 2.1% last quarter, returning to the RBA's 2-3% target for the first time since 2015. While markets reacted strongly and some economists brought forward their rate-hike calls, the RBA is likely to need more evidence before concluding that price pressures have now shifted higher.
Bets that inflation is getting entrenched have driven a selloff in global bond markets, with two-year Treasury yields rising more than 20 basis points this month to its highest since March 2020. In New Zealand, the yield has surged almost 80 basis points this month.
Lowe says he wants inflation to sustainably return to the 2.5% midpoint of the RBA's target and is trying to drive unemployment down toward 4% to spur wages and faster price gains. 
What Bloomberg Economics Says

"More important to the RBA is the inflation outlook -- surprising strength last quarter doesn't change the dynamics for the labor market nor wage settings, the eventual drivers of sustainable inflation."

-- James McIntyre, economist. To read more, click here 
The RBA's board convenes for its November meeting on Tuesday and will release updated quarterly economic forecasts three days after that. 
In August, it estimated trimmed mean inflation would be 1.75% by the end of this year, a level now already exceeded.
"From this point, just like a number of other major central banks, we are likely to hear the RBA start to use the word 'transitory' to describe some of the current inflationary pressures," said Belinda Allen, senior economist at Commonwealth Bank of Australia. 
"The RBA will need to see evidence of a lift in wages growth before they make any major surgery to their profile for underlying inflation," she said.