Australia Reaches 30% Women on ASX 200 Boards After 4-Year Push
(Bloomberg) -- Australia reached a target of 30% of board positions filled by women on the nation's largest publicly traded companies following a campaign by pressure groups and pension funds.
"I'm incredibly proud that we can say 30% of ASX 200 boards are now women," Nicola Wakefield Evans, the chair of 30% Club Australia said in a statement Thursday. "This target could not have been achieved without the considerable efforts of senior chairs, directors, executive search firms, fund managers, investors and other advocates who have led from the front on this issue."
The 30% Club, which advocates for gender diversity on boards and senior management teams, and the Australian Council of Superannuation Investors (ACSI) and other groups campaigned for years to increase female representation from 20% in April 2015. ACSI, which represents funds holding more than A$2.2 trillion ($1.5 trillion) in assets, asked members to use their voting power to pressure leadership changes among companies with poor board gender diversity.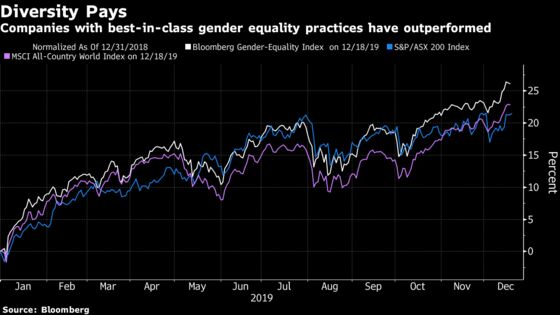 Companies that support disclosure and best-in-class gender equality practices have gained 26% this year, as measured by the Bloomberg Gender-Equality Index, outperforming Australia's benchmark index and the MSCI All-Country World Index.
Still, there's more to be done. While Australia's largest listed companies in aggregate have surpassed the 30% Club's eponymous target, there's still seven ASX 200 member-companies with no women on their boards. Further, women represent less than a quarter of company directors across all listed companies.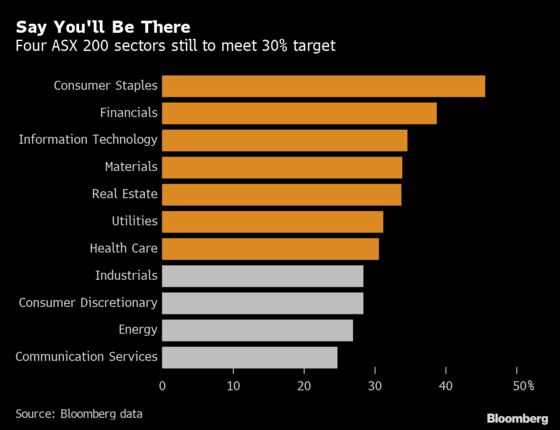 "It's important to remember that 30% is the floor, not the ceiling," Wakefield Evans said. "While we applaud the ongoing hard work of each board that is addressing gender diversity, we will ensure there is continued pressure on those who don't, to continue increasing the number of female directors."