Australia Property Slump May Be Through Worst as Drop Moderates
(Bloomberg) -- Australia's property price slide moderated in April, suggesting the worst of the housing slump may have passed.
Housing values in the combined state and territory capitals fell 0.5 percent in April, compared to a 0.7 percent drop in March, according to CoreLogic Inc. data released Wednesday. From a year ago, prices have dropped 8.4 percent.
While house values are still falling, the rate of decline has been easing since prices tumbled 1.1 percent in December. "We are seeing further evidence that the worst of the housing market conditions are now behind us," CoreLogic's head of research Tim Lawless said in the statement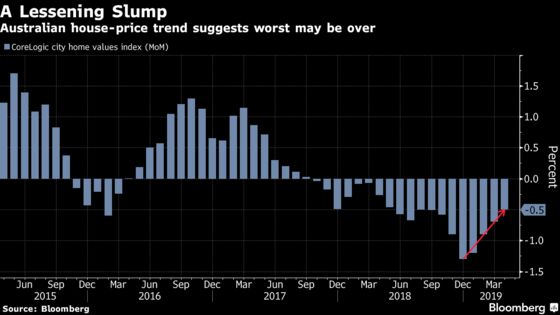 Among other tentative signs the slump may be nearing a bottom: auction-clearance rates are holding among the mid-50 percent range in major markets, and home-lending rose in February, albeit from a low base. Price declines also moderated in Sydney and Melbourne, the nation's two biggest property markets
Don't put the champagne on ice yet though. Property values fell in more regions as the downturn became more geographically diverse, declining in every capital city except Canberra. Even Hobart, one of the strongest cities during the downturn, went into reverse, with prices in the Tasmanian capital falling 0.9 percent
And any recovery won't be quick. "Although the rate of decline has moderated, we are still seeing values falling across most regions, and any recovery in dwelling values is likely to be a long term outlook," Lawless said
What Bloomberg's Economists Say

"The slower pace of house price declines eases risks of a destabilizing downward spiral in sentiment. Even so, this concern persists as the monthly drop in house prices remains sizable."

-- Tamara Mast Henderson, Economist
Click here to view the piece.