Australia House Prices Fall for 11th Month as Downturn Deepens
(Bloomberg) -- Australian housing prices fell for an 11th straight month in August, and further declines are likely as the peak selling season starts.
National dwelling values dropped 0.3 percent last month, led by declines in Sydney and Melbourne, according to CoreLogic Inc. data released Monday. Prices in Sydney, the epicenter of the recent property boom, have now fallen 5.6 percent from a year earlier.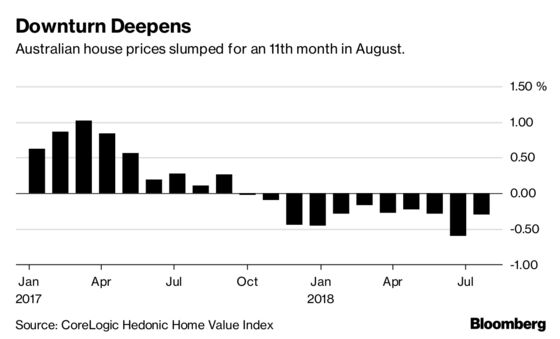 "Looking forward, there are a few wildcards that could create some headwinds for housing market conditions," CoreLogic said in the statement.
Westpac Banking Corp.'s move last week to raise home loan rates "is likely to send a chill through the housing market," CoreLogic said. Tight credit conditions and record household debt could also damp confidence as the peak spring selling season starts.
"With so many balls in the air, it's likely the spring season will be a challenging one for the housing sector," CoreLogic said.