Australia Home Prices Notch Up Biggest 3-Month Gain in Decade
(Bloomberg) -- Australia's property market racked up its biggest three-month gain in a decade, with home prices rising again in December to end 2019 on a strong note.
National property values jumped 1.1% last month and 4% over the quarter, the largest gain over any three-month period since November 2009, according to data from CoreLogic Inc. released Thursday. Sydney and Melbourne continued to lead the rebound, with prices up 1.7% and 1.4% respectively for the month.
Although December's increase was "fast-paced," it was softer than the preceding two months, suggesting increased levels of housing stock and renewed concerns about affordability are damping gains, CoreLogic research director Tim Lawless said in a statement.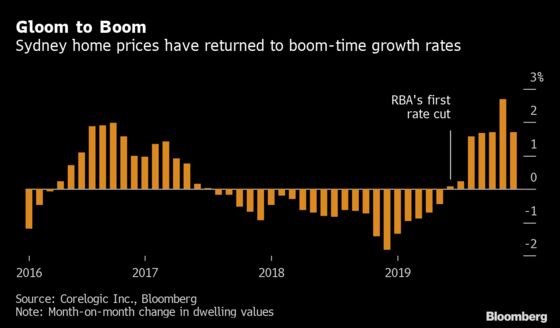 The housing rebound is a complete about-face from just six months ago when economists were debating how much further prices could fall.
In addition to record-low interest rates and a loosening of lending curbs, dwelling values are being driven higher by a shortage of properties on the market. That's led to a renewed fear among buyers that if they don't jump in now, they could miss the chance to buy.
On an annual basis, national house prices gained 2.3% in 2019, with five of the eight capital cities rising. Sydney and Melbourne both gained 5.3% last year, Adelaide declined 0.2%, Perth dropped 6.8% and Darwin led annual declines by falling 9.7%.
Despite a strong rebound over the second half, national property values are still some 3.1% below the peak reached in October 2017, CoreLogic said. If the current quarterly rate of growth persists into 2020, the national housing market will reach a fresh record in March.