ATVs Drive Textron's Earnings Off a Cliff
(Bloomberg Opinion) -- If you needed more proof that the conglomerate model is broken, look no further than Textron Inc.
The maker of Cessna jets and Bell helicopters reported third-quarter earnings per share on Thursday that missed analysts' estimates by a whopping 20 percent. The main culprit was Textron's industrial division, which sells E-Z-Go golf carts and Jacobsen turf-care equipment as well as Arctic Cat ATVs and snowmobiles (a brand it acquired last year). The unit earned just $1 million in operating profit in the third quarter, compared with $49 million in the same period last year.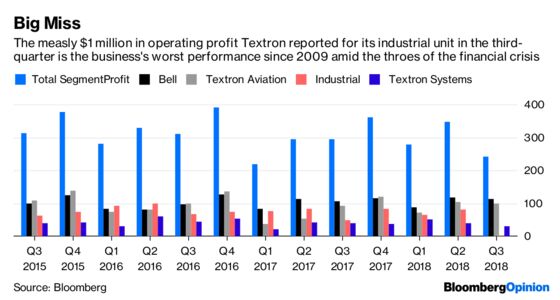 The Arctic Cat acquisition increased Textron's exposure to the consumer market for specialized vehicles and CEO Scott Donnelly blamed a "painful learning experience" in managing that side of the business for the underperformance. The company misjudged how discounting is handled with retailers and didn't have a great strategy for drawing in customers. Textron is also a year behind in rolling out some new off-road vehicles that are used in dirt — as opposed to snow, where its lineup is stronger.
Textron's fumble is a good reminder of the dangers of pushing into new distribution and supply channels via M&A. Even if a business seems complementary, that's not an easy process to manage. Just ask Campbell Soup Co., which is now facing a proxy fight from activist investor Dan Loeb in part because it botched an effort to expand into fresher foods. But Textron's disappointing third-quarter showing and the subsequent plunge in its shares also offers further proof that a company is only as good as its weakest unit.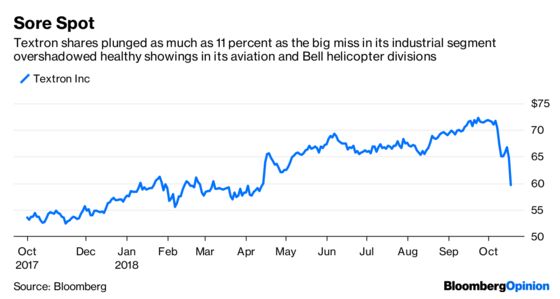 Similarly, Dover Corp. also released third-quarter numbers on Thursday that were dragged down by an almost 9 percent drop in revenue excluding currency swings and M&A at its refrigeration unit. That forced the company to lower its 2018 organic sales guidance to 3 percent, down from a previous range of 3 percent to 4 percent. The offset to this were signs that new CEO Richard Tobin is acting quickly to execute the cost-cut plan he laid out to investors in September, which likely resulted in Dover's roughly 2 percent stock gain as of midday on Thursday.
What's interesting about Dover and Textron is that both companies have done major divestitures in recent years: Dover completed the spinoff of its energy assets earlier this year, while Textron sold its tools business to Emerson Electric Co. in July for $810 million. And yet both Dover and Textron are still composed of disparate businesses whose unique components create a muddled earnings picture. I remain unconvinced of the merits of partial breakups. 
I'm not going to pick on Textron's industrial segment just because it had one bad quarter, but it's never been clear why Textron needs an industrial segment in the first place. There are no obvious synergies between turf-care equipment and Bell helicopters. Nor are there clear ties between Textron's aviation unit, which primarily sells business jets, and its Systems division that specializes in military simulation and training tools, weapon systems and armored vehicles.
The recent spurt of M&A across the aerospace and defense industries — including the more than $19 billion takeover of L3 Technologies Inc. announced by Harris Corp. earlier this week — should help crystallize the value of Textron's assets in those sectors. That could provide an opportunity for divestitures and it should take advantage of that,  or at the very least, think long and hard about what sort of company it wants to be.
This column does not necessarily reflect the opinion of the editorial board or Bloomberg LP and its owners.
Brooke Sutherland is a Bloomberg Opinion columnist covering deals and industrial companies. She previously wrote an M&A column for Bloomberg News.