AT&T Tops Earnings Estimates on Surging Subscriber Growth
(Bloomberg) -- AT&T Inc. exceeded Wall Street profit estimates and blew past wireless subscriber targets, showing its newly concentrated focus on fiber and 5G network expansion is making progress.
Second-quarter earnings rose to 89 cents a share, with revenue reaching $44 billion, AT&T said Thursday. That topped estimates of 80 cents and $42.8 billion. The most recent figure excludes a 52-cent charge for the Latin American video unit Vrio, which is being sold.
The results show consumers are responding vigorously to promotions offering them low prices for a new generation of phones that access faster 5G networks. Verizon Communications Inc. reported better-than-expected sign-ups on Wednesday. T-Mobile US Inc., meanwhile, reports second-quarter results next week.
"The industry is growing," AT&T Chief Financial Officer Pascal Desroches said after the company posted its fourth straight quarter of wireless subscriber gains.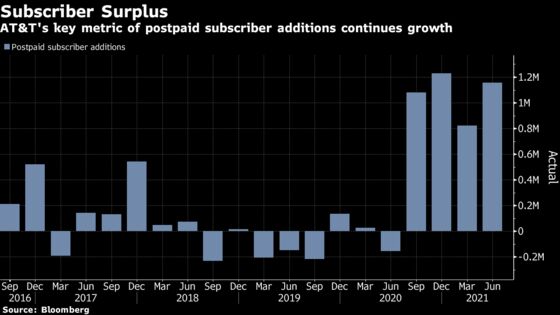 "In the aftermath of the pandemic, I think consumers realize the need for greater connectivity and greater devices is higher than ever, and as a result we are taking share," Desroches said.
AT&T added 1.16 million regular wireless customers, nearly four times as many as the 300,000 analysts expected. Of those, 789,000 were new phone subscribers. On Wednesday, Verizon reported 528,000 new monthly subscribers.
That thesis is playing the other way in pay TV, where streaming services continue to draw viewers away from cable and phone providers. AT&T said 473,000 subscribers canceled video service in the quarter. Analysts expected a pay-TV loss of about 600,000 customers.
AT&T has lost nearly 10 million TV customers since acquiring the DirecTV satellite service. To get the declining business off its books, the company is shifting its TV operations to a joint venture with TPG. Chief Executive Officer John Stankey said he expected to close the deal in the coming weeks.
AT&T is also merging its WarnerMedia unit with Discovery Inc. to create a new independent company. Both moves are intended to return AT&T to its roots in telecommunications, with a stronger focus on 5G wireless and fiber broadband networks.
The WarnerMedia division continued its growth in streaming, adding 2.8 million more U.S. HBO and HBO Max subscribers in the second quarter, for a total of 47 million. AT&T reported about 67.5 million worldwide subscribers to the premium channel and the streaming service, and now says it will have 70 million to 73 million by the end of 2021. The company no longer discloses an activation figure for HBO Max.
AT&T raised its forecast for adjusted earnings growth, and now predicts a low- to mid-single-digit gain for the year. Analysts expected earnings to be unchanged from the prior year.
AT&T shares were little changed at $27.90 in New York trading at 1:15 p.m. The stock was down 3% this year through Wednesday's close, lagging behind the 7.2% gain for T-Mobile. Verizon was down 4.8 % in the same period.
AT&T has the most aggressive so-called free-phone promotion this year. Verizon started a similar offer in June but ended it this week. Both carriers are racing to catch up to T-Mobile in 5G network expansion, particularly in midband frequencies that promise huge leaps in speed and performance.
What Bloomberg Intelligence says

"This earnings beat suggests the wireless segment may stay strong in 2H, as any risk of share loss could be limited by an aggressive iPhone offer that may be attracting new users."

--John Butler, telecom analyst

Click here to read the research.
Consumers have been flocking to the phone promotions in part to upgrade to 5G devices. With expected new Apple iPhones and other flagship phones coming later this year, seasonally high demand may collide with some chip shortages resulting from lingering supply-chain constraints.
AT&T's Desroches says he's heard from other buyers that there are possible inventory limits.
"We haven't seen it ourselves," he said. "The suppliers that we are talking to all indicate that they should be able to meet our needs. But it would be imperative for us to to keep an eye on it."