AT&T to Join New CEO Roundtable Committee on Racial Justice
(Bloomberg) -- Vowing to change the way police operate in the U.S., AT&T Inc. Chief Executive Officer Randall Stephenson is helping start a committee of the Business Roundtable that will focus on racial equality and justice.
Stephenson, who's in his final weeks as head of AT&T, will represent the company on the new committee -- part of the nearly five-decade-old roundtable of business leaders.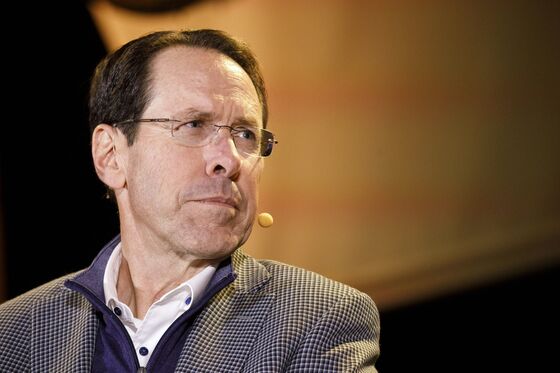 "The horrific deaths of George Floyd, Breonna Taylor, Ahmaud Arbery and now Rayshard Brooks provide stark evidence that we have failed in our mandate to establish equal justice for Black Americans," Stephenson said in an open letter to federal, state and local officials. "And all too often, tragedies like these follow a predictable pattern: Outrage yields to protest, which leads to promises of reform. But in the end, little changes and the pattern repeats itself."
The killing of Floyd while in police custody last month ignited weeks of protests on the streets -- and debates in boardrooms about how companies should respond. In his letter, Stephenson said that data may ultimately help change how police forces do their work.
"In corporate America, we operate by the maxim: What gets measured, gets done," he said. "We use data to recognize trends, inform our goals, and drive our decision-making and actions. The same analytical rigor can help inform police reform efforts."
As head of AT&T, Stephenson oversees a wide swath of businesses, including ones in the spotlight during the nationwide protests. The company owns CNN -- a frequent target of criticism by President Donald Trump -- which saw one of its reporters arrested while on camera covering demonstrations. It also owns HBO Max, which temporarily pulled "Gone With the Wind" from its service last week because of the movie's racist depictions.
Stephenson will hand the reins at AT&T to John Stankey on July 1, but will remain the Dallas-based company's executive chairman through January.
The 60-year-old executive pointed to the bipartisan push to ban police chokeholds as a sign the country can work together to transform policing.
"This is America's moment to seize the opportunity for change and business leaders cannot sit this one out," he said. "We must engage to drive reform."