AT&T Shouldn't Take DirecTV Viewers for Granted
(Bloomberg Opinion) -- AT&T Inc., in an effort to shore up profits, is testing out its pricing power. That might backfire.
The $223 billion company is trying to quell any concerns that it has spread itself too thin after making two giant acquisitions in relatively short order: DirecTV for $63 billion in 2015 and Time Warner for $102 billion this year. With these deals, AT&T CEO Randall Stephenson has transformed the wireless carrier, a traditionally defensive blue-chip business, into a conglomerate exposed to the ups and downs of the media industry and afflicted by narrowing pay-TV distribution margins. Now, saddled with more debt than any other non-bank corporation in the U.S., AT&T is looking to improve profitability by boosting prices. 
A key step to achieving Stephenson's leverage-reduction goals for next year is to stem Ebitda declines at DirecTV, which has lost hundreds of thousands of satellite subscribers, many switching to streaming services such as its own money-losing DirecTV Now app. But Stephenson's belief that the pay-TV business will stabilize is partly premised on the notion that as it ends promotional pricing for DirecTV and raises prices for DirecTV Now, subscribers will stick around and pay the higher fares. See the problem with this line of thinking?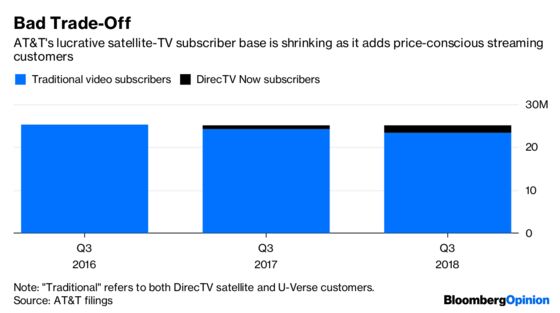 AT&T may feel emboldened because its previous price increases did go largely unnoticed or drew little outrage. In July, just one month after winning the trial over the Time Warner deal, the company hiked all of its DirecTV Now packages by $5 a month — one last kick to government regulators, which had unsuccessfully argued that AT&T's scale would be harmful to the marketplace. Stephenson, at an investor conference in September, talked about the company's newfound pricing power:
"We expected this to be a very price-sensitive customer segment that would lose a lot of subscribers in the third quarter. Actually, the customer base has been very resilient to the price move as we put new functionality in the platform. ... It's causing us to really begin to think differently about how we align the video portfolio over the next few months."
AT&T's wireless business also raised an obscure "administrative" fee in customers' bills this year to $1.99 from 76 cents, first noted by Walter Piecyk, an analyst for BTIG Research, who estimates the increase generated an extra $800 million in phone-service revenue. 
It would be wrong to assume that the subscriber base for TV services is anywhere near as resilient. Our mobile phones have become, sadly, our lifeblood, and so data plans are a must-have. But pay-TV packages, for many, are simply nice to have. It's also a pain to switch wireless carriers, which forces customers to stick it out, whereas over-the-top TV services have provided more choice and made subscribing and canceling literally as easy as the click of a button. 
As those DirecTV customers who have enjoyed special pricing start to notice steeper bills, why would they keep the service when there are a deluge of cheaper, worthy alternatives? Sure, there are those who feel they need hundreds of channels, or who are overwhelmed by the sheer variety of streaming packages. Regardless, satellite service is becoming a thing of the past and higher prices should only exacerbate that.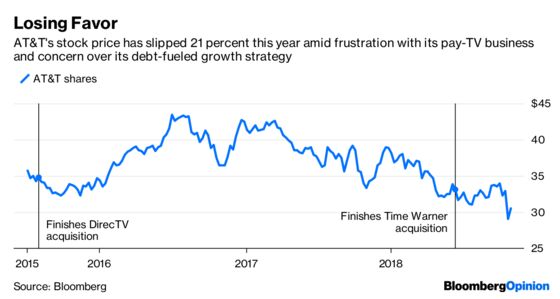 AT&T is probably nearing the upper limits of DirecTV Now's pricing power as well, and it's happening at a time when competing services from Walt Disney Co. and others are still coming to market. I wrote recently how Netflix Inc. has changed the elasticity of pay-TV subscribers by accustoming viewers to relatively cheap video service without advertising interruptions and with what feels like an unlimited assortment of shows and movies. When I informally surveyed 100 people over social media about this topic, they signaled price was a significant factor for them as well as an aversion to ads. Netflix may not have everything viewers want, but at about $11 a month it's the best value yet. (DirecTV Now's base package is $40 for about 70 channels.)
The company has said that DirecTV Now was a placeholder until the Time Warner deal got done. It's planning to launch yet another streaming service late next year for its newly acquired collection of films and TV series, including from HBO. Given that the selling point will be great content, I can't help but imagine even higher prices — they have to be, if AT&T wants to make money. 
But if this new streaming world just means expensive cable-TV-like packages delivered over Wifi, then the industry has got it all wrong. AT&T risks learning the hard way.
This column does not necessarily reflect the opinion of the editorial board or Bloomberg LP and its owners.
Tara Lachapelle is a Bloomberg Opinion columnist covering deals, Berkshire Hathaway Inc., media and telecommunications. She previously wrote an M&A column for Bloomberg News.