AT&T Investors Await Signs That HBO Max Has Found Its Footing
(Bloomberg) -- Five months after its debut, HBO Max remains a work in progress.
Launched in May, AT&T Inc.'s new streaming service is still unavailable to millions of consumers who use popular set-top devices to watch TV online. The company is also having to remind existing HBO subscribers that they can get HBO Max -- and its giant library of shows -- at no added cost.
On Thursday, the phone giant will update investors on how much progress HBO Max has made, including the payoff from recent ad campaigns and price promotions, and try to dispel the notion that it's off to a sluggish start.
"They need to offer more bundles and pricing specials to drive more sign-ups," said analyst Michael Nathanson of MoffettNathanson LLC. AT&T needs to improve the user interface and make the service "easier to navigate so users enjoy the experience."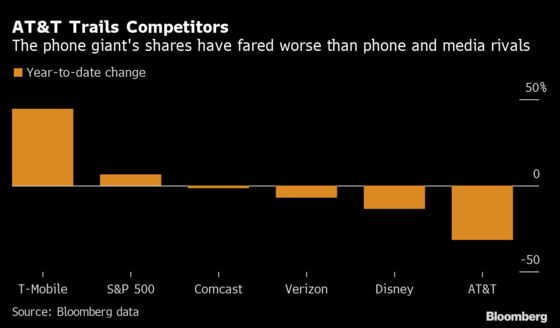 For now, the biggest hurdle to new sign-ups is that HBO Max can't be accessed on Roku Inc. and Amazon.com Inc. devices, the two most popular streaming products. It's also nowhere to be found on set-top boxes from Comcast Corp., the largest U.S. pay-TV and internet provider, despite a distribution deal struck in late May. Together, those three companies amount to tens of millions of TV households where the new service either has no foothold or forces subscribers to log in elsewhere.
All of this is happening against the backdrop of management upheaval at AT&T's entertainment division, WarnerMedia, which operates HBO. The company has laid out aggressive plans for an international rollout of HBO Max and a lower-cost ad-supported service, both of which are scheduled to debut next year, while trying to reorient its film and TV businesses for the streaming era.
Unlike its rivals, HBO Max started with the awkward task of trying to target two different consumer groups: a new generation of TV viewers accustomed to watching Netflix or Amazon Prime Video and pay-TV customers who already get the premium cable network. Many of the latter were happy with their old HBO subscriptions and slow to add the new streaming service, even at no added cost. In July, AT&T said about 24 million people who subscribe to the old HBO -- about two thirds of the total -- hadn't yet activated their HBO Max accounts.
In August, HBO Max launched a two-month advertising campaign aimed at that group. The ads, which featured shows like "Friends," "The Big Bang Theory" and "South Park," came with a message: You already have HBO Max with your HBO subscription, so download the app and log in.
Still, some HBO subscribers were unaware. Earlier this month, a subscriber to Charter Communications Inc.'s Spectrum cable and internet service tweeted about watching "South Park" "on some weird website" instead of on HBO Max.
"I had HBO Max this whole time and I didn't even know it because I never downloaded the app," the user wrote.
AT&T's goal is to grow the overall subscriber base at HBO. The network was a key reason for AT&T's $85 billion acquisition of Time Warner two years ago, and the phone company's recently rechristened WarnerMedia division is spending billions of dollars to broaden its programming and appeal to a wider audience.
One way to attract subscribers is to have a hit show, like the much-beloved "Game of Thrones." AT&T Chief Executive Officer John Stankey has said HBO Max has been hampered by the pandemic, which stalled production of new shows. But the service may benefit from the buzz sparked last month when HBO won the most Emmy awards.
Another way is to cut prices. As of June, about a month after the launch, the number of HBO and HBO Max customers had grown by only about 1.7 million year to date to a total 36.3 million. But in September, HBO Max temporarily lowered its price to $12 a month for new customers, or $3 less than its retail price of $15. With the sale over, HBO Max is among the most expensive streaming services.
There are signs the service gained traction over the summer. Last quarter, HBO Max captured the third-largest share of U.S. video-on-demand subscribers with 11%, behind NBC's Peacock and Amazon Prime Video, according to the research firm Kantar.
About 9% of people said in September that someone in their home uses HBO Max, up from 6% who said so in June, according to a MoffettNathanson survey. But HBO Max still has a ways to go. That compares with 72% for Netflix, 50% for Amazon Prime Video, 39% for Hulu and 30% for Disney+.
Stankey has said HBO Max hit its subscriber target of 36 million this year, a relatively low bar given there were 34.6 million HBO subscribers at the end of 2019. The company expects to reach about 41 million subscribers in 2022 and 50 million by the end of 2025.
Meanwhile, WarnerMedia continues to experience turmoil, including job cuts totaling in the thousands. After losing two top programming executives in August, the company this week named former ABC executive Channing Dungey to be the new chairman of the Warner Bros. Television Group, starting next year. One of her big tasks: producing more shows for HBO Max.