AT&T's Dealmaking Ways Aren't Paying Off Yet
(Bloomberg Opinion) -- What if AT&T Inc. hadn't bought its way into the media production and distribution businesses and had instead remained just a boring ol' wireless carrier? Lately, it's hard not to wonder. 
On Wednesday morning, the $240 billion conglomerate posted results for the third quarter that showed the difficulty of owning multiple lines of business when each one needs more attention and resources than ever. AT&T's stock dropped more than 3 percent in early trading as the company lost wireless tablet customers and Ebitda for its entertainment group shrank. Adding insult to injury, the shaky report comes a day after AT&T's biggest rival on the wireless side, Verizon Communications Inc., posted generally upbeat results that drove its own stock to a more than 18-year high—and on a down day for U.S. markets. In fact, AT&T hasn't lagged this far behind Verizon since the early 1990s: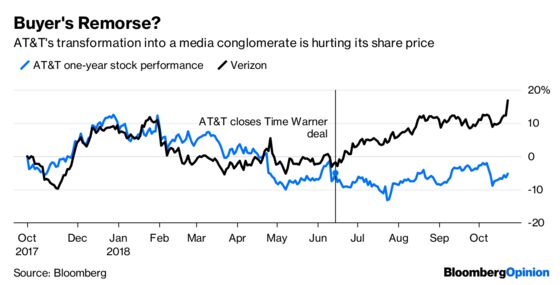 The two are looking less and less like comparable peers. While Verizon is staying focused on its evolving wireless network, AT&T looks to be full of distractions, which stem from its overpriced takeover in 2015 of the DirecTV satellite business and have been compounded by its recently completed $102 billion acquisition of Time Warner. Last month, I noted that AT&T's Ebitda for this year including Time Warner's contribution is lower than analysts' predictions had been at one time for AT&T on a stand-alone basis. That's not good, especially when the merger raised AT&T's total debt to about $190 billion.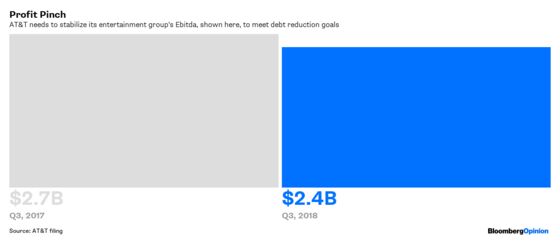 Ebitda for AT&T's entertainment group—comprising DirecTV—is perhaps the most crucial metric to keep an eye on these next few quarters. That figure shrank 8.6 percent to $2.4 billion in the three months through September, as DirecTV loses hundreds of thousands of satellite subscribers. AT&T CEO Randall Stephenson projects that the company's net debt to forward Ebitda will fall to a more manageable ratio of 2.5 by the end of next year. But one of his key assumptions is that the entertainment group's Ebitda stabilizes. Wednesday's report shows why that's a big if. 
Even though AT&T highlights that its popular DirecTV Now streaming service is offsetting declines in the legacy satellite business, that's only true on a subscriber basis and not when it comes to profit. DirecTV Now, even with its recent $5 price increase, can't be profitable with the amount of content it offers. That goes back to an issue I wrote about last week: Netflix Inc. has spoiled us, and now companies like AT&T are being forced to offer products that simply aren't financially feasible. AT&T says it's also planning to launch a new Netflix-like streaming service late next year that is anchored by HBO. That raises questions, such as what will be the Ebitda hit from keeping future content off Netflix, and what will be the cost of launching another rival product so late in the game?
DirecTV is the headache AT&T never needed. And to right that wrong it's made another splashy acquisition far outside the Dallas-centric telecommunications management team's area of expertise. The company is now contending with an eye-popping amount of debt, a major profit center in DirecTV that continues to erode, pressure to increase HBO's budget and output with the risk of potentially reducing the brand's cache, and a messy and incomplete media strategy. Growth in wireless subscribers is becoming harder to come by, too. This tug of war between growth and profit, the need to spend and also pay off debt will only continue.
The vision Stephenson laid out when he set out to buy Time Warner two years ago is still in the abstract. Without these two megadeals AT&T would be looking more like Verizon, and as of now that wouldn't be such a bad thing. 
This column does not necessarily reflect the opinion of the editorial board or Bloomberg LP and its owners.
Tara Lachapelle is a Bloomberg Opinion columnist covering deals, Berkshire Hathaway Inc., media and telecommunications. She previously wrote an M&A column for Bloomberg News.