AstraZeneca's Stock Jumps as Investors Look Past Vaccine Woes
(Bloomberg) -- AstraZeneca Plc shares posted their biggest gain this year even as European countries suspended use of the company's Covid-19 vaccine, with investors focusing on its promising lineup of experimental drugs and earnings growth prospects.
Shares of the Cambridge, England-based drugmaker rose as much as 3.6% in London on Tuesday, the most since Dec. 29. Analysts at Jefferies Financial Group Inc. recommended buying the stock, citing AstraZeneca's "prolific" pipeline and upcoming product launches.
A loss of the vaccine would set back efforts to bring the coronavirus under control and threaten the pace of Europe's economic recovery. Still, it's not material to the finances of AstraZeneca, which has pledged to provide the shot on a not-for-profit basis while the pandemic is under way.
"Long-term investors will look beyond the near-term noise and focus on how the company is well positioned with double-digit earnings growth forecast out to 2025," Ketan Patel, a fund manager at Eden Tree Capital, said in an email.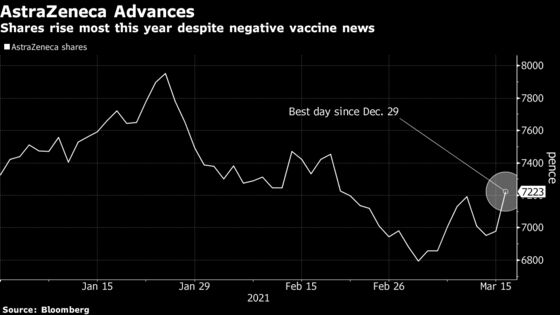 European health ministers are meeting Tuesday to discuss the future of the vaccine after reports of blood clots in people who received the shot, and the European Union drug regulator plans to decide on the next steps on Thursday. About 17 million people have received the shot in the EU and the U.K. and the number of reported blood clots in that group is lower than would be expected in the broader population, AstraZeneca said.
AstraZeneca shares trade at a similar multiple to earnings as its European peers, yet the company offers "a leading growth profile," Peter Welford of Jefferies wrote in a research note. Including the earnings boost that the company will get from buying Alexion Pharmaceuticals Inc., the stock is priced at a discount, he wrote.