Aston Martin Pushes the Pedal on Its IPO Price
(Bloomberg Opinion) -- If you don't ask, you don't get. Aston Martin barely turns a profit but on Thursday said it was seeking a valuation of 4 to 5.1 billion pounds ($5.3 billion to $6.8 billion) in its initial public offering. The British sports-car maker is pushing its luck.
CEO Andy Palmer has turned Aston around, but the recovery is still very much a work in progress. Ideally, companies list on the stock market with a tidy three-year history of profitable growth. Not so Aston. After losing money in 2015 and 2016, it made 77 million pounds of net profit last year and 12 million in the first half of 2018.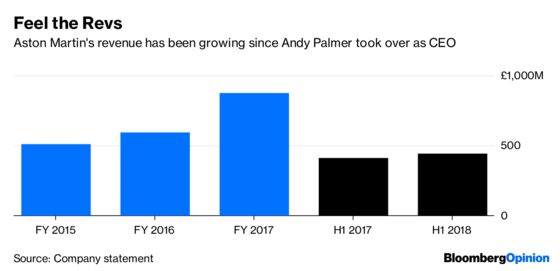 The pitch for the share sale is all about the next three years, when Aston is introducing a raft of new cars. Hopes are highest for its luxury sport utility vehicle coming in 2020. Volumes are expected to be roughly 6,300 this year, rising around 15 percent next year and by one-third in 2020.  The "medium term" goal is some 14,000 units annually.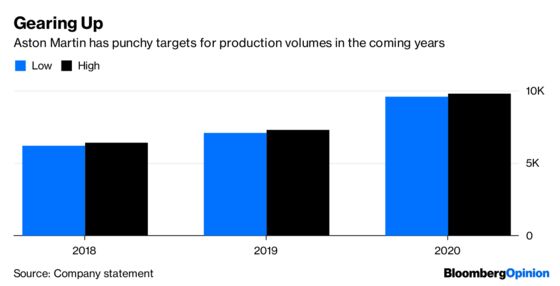 Scale economies would increase Ebitda — 106 million pounds in the first half of 2018 — more rapidly, suggesting something between 400 and 500 million pounds in 2020 and 500 to 600 million pounds in 2021.
What might Aston be trading at if these numbers start to materialize? Ferrari NV trades at an enterprise value of around 20 times forward Ebitda. If Aston commanded 14 times, a 30 percent discount and in line with the luxury sector, that would imply an enterprise value of around 7.7 billion pounds in 2020, say around 6 billion pounds in today's money. Adjust for estimated net debt, and the equity value is around 5.4 billion pounds. A 15 percent IPO discount would put the valuation just inside the upper half of the price range.
The risks to this rosy scenario are considerable. Aston needs to build the cars without snags from a new factory. It needs people to buy them. The wealthy may be a growing class, especially in Asia, but if there are production glitches or the economy slows, Aston will struggle to improve. That means it would be stuck with high leverage and weak profitability, as Bernstein analysts point out.
Ferrari positioned itself as a luxury investment and trades in line with accessory and apparel leader Hermes International. Right now, Aston lacks the pricing power of either. Ordinary carmakers trade at about 2.5 times forward Ebitda.
With management heavily incentivized, it's easy to see why Aston is pressing on. It has no doubt encountered a warm reaction from investors so far, giving it confidence in its price range. But potential shareholders should be wary of just how much needs to go right to justify what Aston's owners are asking.
This column does not necessarily reflect the opinion of the editorial board or Bloomberg LP and its owners.
Chris Hughes is a Bloomberg Opinion columnist covering deals. He previously worked for Reuters Breakingviews, as well as the Financial Times and the Independent newspaper.