Asset Manager With Fake Rothschild Website Gets BaFin Warning
(Bloomberg) -- An asset manager sporting a website that closely resembles that of Edmond de Rothschild Group has no license to conduct business in Germany, the country's financial regulator BaFin said, warning investors away from the "unauthorized institution."
Helmuth Newin Group, with "alleged" business addresses in Regensburg, Germany, and Zurich, Switzerland, "doesn't hold a license pursuant to the German Banking Act to conduct banking business or provide financial services," BaFin said in a statement on its website on Tuesday.
The entity in question says it sells private banking services and asset management, and claims to have 7 billion Swiss francs ($6.98 billion) under management. The company's website is almost identical to Rothschild's, bearing the same logo and much of the same content.
"This organization has no link whatsoever with Edmond de Rothschild, and the website is clearly a fraudulent attempt to profit from our brand," a spokesman for Geneva-based Rothschild said by email. A person who answered the phone at the number provided for Helmuth Newin Group said he wasn't qualified to comment.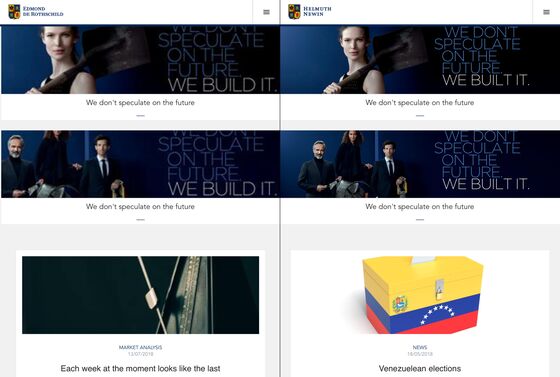 Rothschild said its legal team will take the necessary action to protect its brand and customers from being misled. BaFin didn't say whether it plans to investigate any further.
The address given for Helmuth Newin Group matches that of German insurance broker Euroassekuranz Versicherungsmakler AG, whose chief executive officer is called Helmuth Newin. When contacted by Bloomberg, Newin said he had learned about the website from the BaFin warning and that his company has no links to the alleged asset manager.