Assange Gets Support From Another Famous Leaker: Daniel Ellsberg
(Bloomberg) -- Julian Assange got the support of Daniel Ellsberg, the source behind the Pentagon Papers, who told a London court that the WikiLeaks founder won't get a fair trial in the U.S.
Ellsberg said that Assange's publication of thousands of American cables and war logs was of "comparable importance" to that of the Pentagon Papers -- a secret government study on the Vietnam War. The 89-year-old was backing Assange's bid to avoid extradition.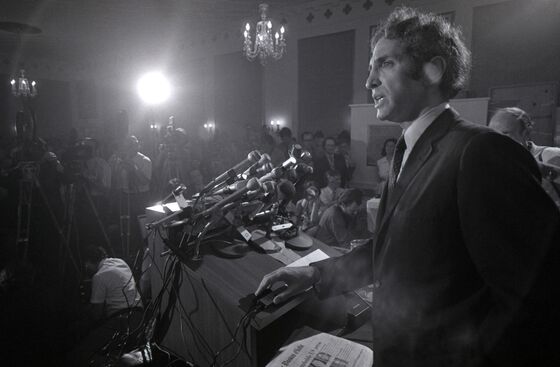 "I observe the closest of similarities to the position I faced, where the exposure of illegality and criminal acts institutionally and by individuals was intended to be crushed by the administration carrying out those illegalities," Ellsberg said Wednesday while testifying via video from the U.S.
The U.S. has charged Assange with endangering national security by conspiring with army intelligence analyst Chelsea Manning to get classified documents. The extradition hearings are moving to the midway point of a four-week trial with Assange insisting that his activities were journalism and the cables exposed government wrongdoing.
At one point, Assange, who was wearing a mask, interrupted Ellsberg's questioning, prompting a rebuke from the judge.
"Please don't put me in a position where I am forced to remove you," Judge Vanessa Baraitser told him.
In his legal filing, Ellsberg recalled how he only narrowly escaped conviction when evidence of unlawful wire tapping surfaced toward the end of his own trial. He was pursued by Richard Nixon's White House, he said, including when a clandestine unit broke into the offices of his psychiatrist in 1971.
"If facing the same circumstances today, and charged under the Espionage Act, I am certain that I would be convicted," he said.