Ask for Help Now Say Debt Advisers to Cash-Squeezed Companies
(Bloomberg) -- Debt specialists are advising cash-strapped borrowers to follow in the footsteps of AB InBev, CBR Fashion and others by tapping their credit lines as soon as possible to avert a liquidity crunch.
This week, the brewing giant drew down the entire $9 billion on its revolving credit facility, while German retailer CBR Fashion told investors it's accessing a 30 million euro credit line. Across Europe, businesses have taken out around $11 billion since March 13.
"Go and ask now," said John Miesner, a director in debt advisory at KPMG. "If lenders aren't supportive then think of more draconian measures like cost cutting."
Many cash-strapped companies are heeding the advice as most of Europe and parts of the U.S. go on lock-down to prevent the spread of the virus. The European Central Bank's launch of a 750 billion euro ($820 billion) debt-buying program on Wednesday should help ease the liquidity crunch but it's unclear how quickly these measures will trickle down to companies whose debt is not eligible for the pandemic bond purchase program.
A day earlier, banks' demonstrated their hunger for cash at the Bank of England's weekly liquidity operation, a further sign of the funding squeeze wrought by the coranavirus pandemic. Demand was almost 10 times bigger on Tuesday than the average in the three months through February.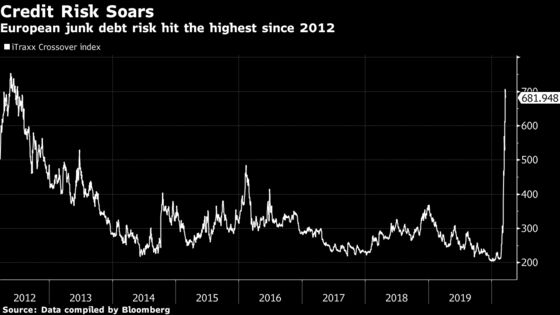 Some advisers, however, are urging a degree of caution. Healthy borrowers that are better-positioned to weather the storm should think twice about drawing down on their loans, according to law firm Allen & Overy.
"I'm receiving questions from clients wondering if it's sensible to draw down all their RCF now and it depends on the circumstances of the company," said Trevor Borthwick, a London-based partner at the firm. "If it's in robust financial health then I'm not sure I see enormous value in doing so."
Companies are also concerned about getting tripped up by their debt covenants in the coming months if their earnings fall behind. It may take many months for defaults to emerge because covenants are only tested periodically and use past reporting periods.
"Borrowers are querying what forbearance is likely to be available from their lenders if they can't meet interest payments or satisfy covenant tests," said Glen Flannery, a partner specializing in restructuring and insolvency at CMS law firm in London. "Those in sectors already hit hard, such as airlines, hotels and hospitality, are querying how they can access urgently-needed liquidity to stay afloat."
In terms of corporate defaults, the rate might climb to the highest level since the early 1990s, according to Borthwick at A&O.
"This is just the start," he said. "The hospitality industry, the airline industry are looking at multiple weeks of almost no revenues and the knock-on effect across the rest of the economy is enormous."