Asia Faces More Growth Downgrades and Currency Pain, S&P Says
(Bloomberg) -- Asian nations face downgrades to economic growth and more pain from rising U.S. interest rates next year, according to S&P Global Ratings.
Having already trimmed 2019 growth forecasts for Asian economies across the board, there could be further cuts. Trade-reliant nations like Thailand, Taiwan, Korea and Malaysia remain the most vulnerable, said Shaun Roache, S&P's chief economist for Asia and the Pacific.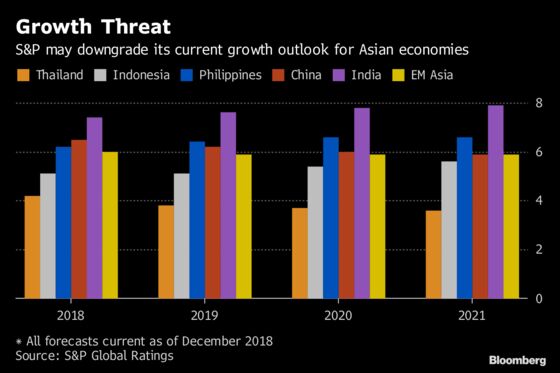 "If I really look at these forecasts with a clear eye I do sense that there's a greater risk that we're going to be cutting these numbers in the next few months than certainly raising them. That's a very big risk," Roache said in an interview. "It may well be that we're not through this downgrade cycle yet and it has further to run."
While a softer tone from the Federal Reserve on the pace of U.S. rate hikes and an easing in trade tensions between Washington and Beijing have offered some temporary relief, the ground could shift again very quickly and currency volatility could return. That will probably keep central banks on watch.
The possibility of a trade war is the key risk for the region's economies, while a slump in China could affect commodity producers like Indonesia, Roache said.
S&P sees the Fed raising rates in December and three more times next year given the underlying strength in the U.S. economy. Financial markets are paring back rate hike expectations, but if the Fed proceeds on its rate path, the "pain might not be over for emerging Asia."