Asia's Dollar Bond Market Hasn't Been This Hot for Years
(Bloomberg) -- Investors have never been so gung-ho about Asian dollar bonds.
Bond orders soared to 6.7 times their issuance sizes in February, unprecedented since Bloomberg started compiling the data in 2016 using available deal statistics. The demand rose just as note sales in the region excluding Japan hit a record $64.5 billion this year.
The robust rally is a sign of how investors have moved on from the worst performance in a decade last year for Asia's corporate notes. With risk back on now, the market's enjoying its best start in seven years, spurred by the dovish signals from the Federal Reserve and China's policy loosening. While the rally has had more legs behind it, it may not match the kind of intensity seen recently, said Manulife Asset Management.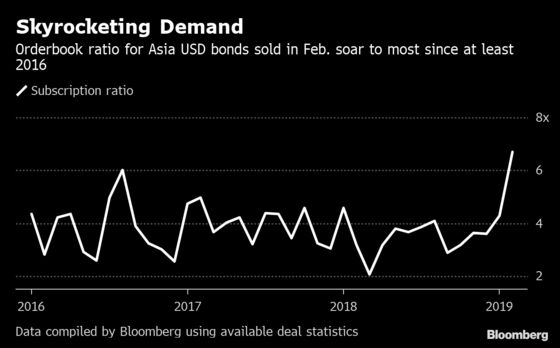 "Investors are now looking for carry after being underweight risks due to the market volatility last year," said Jimond Wong, senior portfolio manager for Asia fixed income at Manulife Asset Management. "The tone should remain constructive in the near term while the pace of bond price appreciation should moderate."
Read also: Best Asian Dollar Bond Rally in Seven Years Is Losing Steam
Nowhere is the demand more pronounced than in Chinese property developers. The amount of orders for their bonds compared with the actual deal sizes hit 7.6 times in February.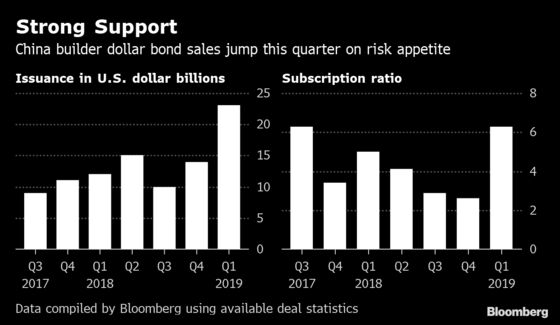 "We have seen real money buyers return in strength for property names, some of which took a break from the battered high yield market since November last year," said Joanne Wong, head of debt capital markets at Bocom International Holdings Co.
Dollar-debt sales by Chinese builders have been on a tear, with issuance surging to a record $22.7 billion this year, aided by a blistering jump in junk-rated offerings. Wong expects continued supply from developers ahead while "some want to test longer tenors to secure funding for the longer term as investor appetite returns this year."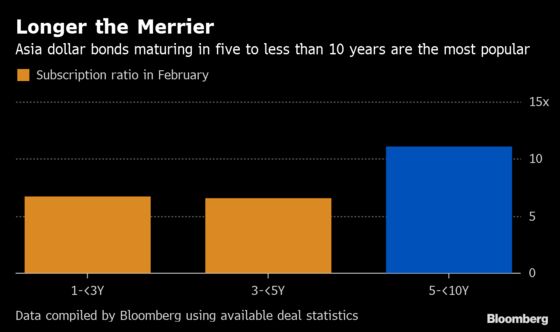 One notable theme recently is investors are piling into notes with longer tenors amid dampened expectations of interest-rate hikes this year. Bonds maturing beyond five years are outperforming the short end of the curve. Dollar debentures due in five to seven years have been racking up returns of 4 percent so far this year, compared with the 1.7 percent gains for notes of one to three years, a Bloomberg Barclays index shows.
Having access to longer tenors gives borrowers greater flexibility to manage their debt profiles to avoid maturity walls from building up, said Paul Lukaszewski, head of Asian corporate debt and emerging market credit research at Aberdeen Standard Investments. The pattern of selling ever-shorter duration bonds last year was unhealthy, he said.
"But longer-dated new issues have also proven to be more volatile when sentiment turned, especially for high yield credits," said Clement Chong, a senior credit analyst at NN Investment Partners. Overall market sentiment may be negatively impacted if trade conflicts are not resolved, or "if the Chinese government does not loosen enough to turn around the economy," he said.