Evergrande Contagion Fears Ripple Through Asia's Primary Market
(Bloomberg) -- Investor appetite for Asian dollar bonds is dwindling as a credit crunch among Chinese property firms ripples through the region's broader debt market. 
Orders for notes from Asia excluding Japan were 3.6 times their issuance size last month, the lowest since August 2019, according to Bloomberg-compiled data of available deal statistics. Demand also waned for Chinese dollar bonds as the subscription ratio fell to 4.1 times from 5.1 in September.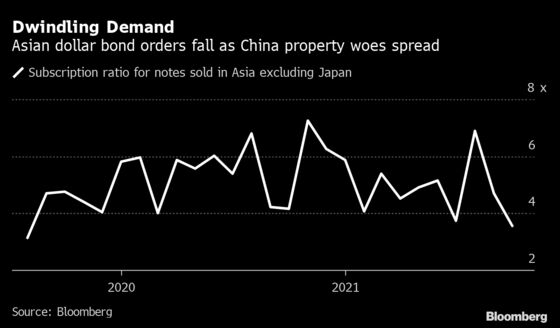 Contagion risks are rising in Asia's offshore credit markets as a clampdown on Chinese property firms prompts rising default risks and threatens a broader economic slowdown. That comes just as mounting global inflation has punished fixed-income markets and caused bond yields to rise amid bets central banks will need to hike rates sooner rather than later. This confluence of factors dragged down dollar bond sales in China last month to $10.6 billion, the least this year. 
The selloff in developers' debt is also showing signs of spreading to investment-grade giants, which may further pressure demand for fresh sales in November. Yields on China's junk-rated dollar debt, which is dominated by real estate firms, are at 21.3%, their highest in at least a decade, a Bloomberg index shows.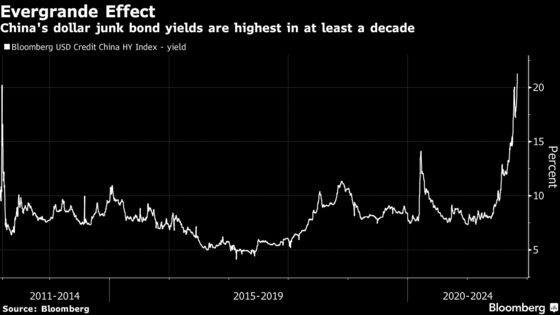 Offers for dollar bonds sold in Asia excluding both Japan and China were 3.2 times issuance in October, compared with 4.4 times the previous month.